Over the past few years, we've seen a serious interest in bringing the outdoors, in. While it may have started with the house plant boom during COVID, it has grown into something much more. Now people are looking to turn their interiors into a natural oasis filled not only with plants but with rich botanical designs that complement their own personal sense of style.
To capitalize on all the soothing and mood-boosting benefits of nature without compromising on style, look to botanical wallpaper! Whether you're looking for something bold and glamorous or something with a sleek, modern design; something with delicate charm or larger-than-life vibrance, we have a botanical wallpaper for you! Here are a few of our favorite options for every home styling:
Glamourous Greenery
Maximalist style is continuing to grow in popularity, making now the perfect time to bring a bit of bold glamour to your home! Choosing a botanical design with luxurious finishes like metallics or flocks will add some WOW factor to your space, while also maintaining a feeling of fresh sophistication. For a refined and chic print with a hint of glamour, this Greta Grey Trail wallpaper may be up your alley. Leafy silver vines glisten and climb along a cool grey backdrop, adding fresh brightness with a hint of luxury to your space. For extra impact, add in some gold accents for two-tone metallic sophistication!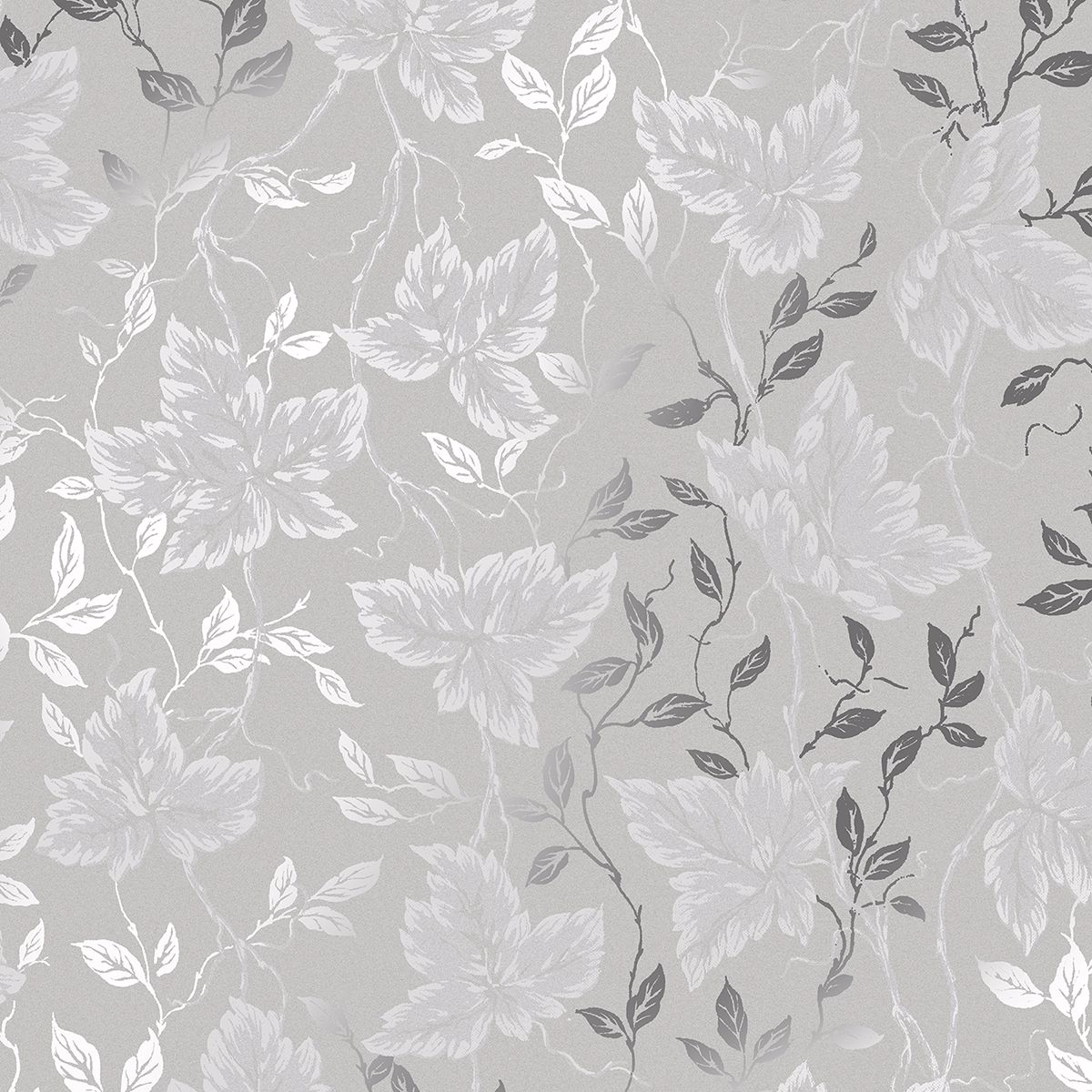 Add a touch of Old Hollywood glamour to your home with the luxurious Balboa botanical wallpaper. The lush, tropical leaves are outlined in dark blue velvety flock against a muted metallic blue backdrop. A perfect balance of modern design and Art Deco opulence, Balboa brings the sultry sophistication you've been looking for.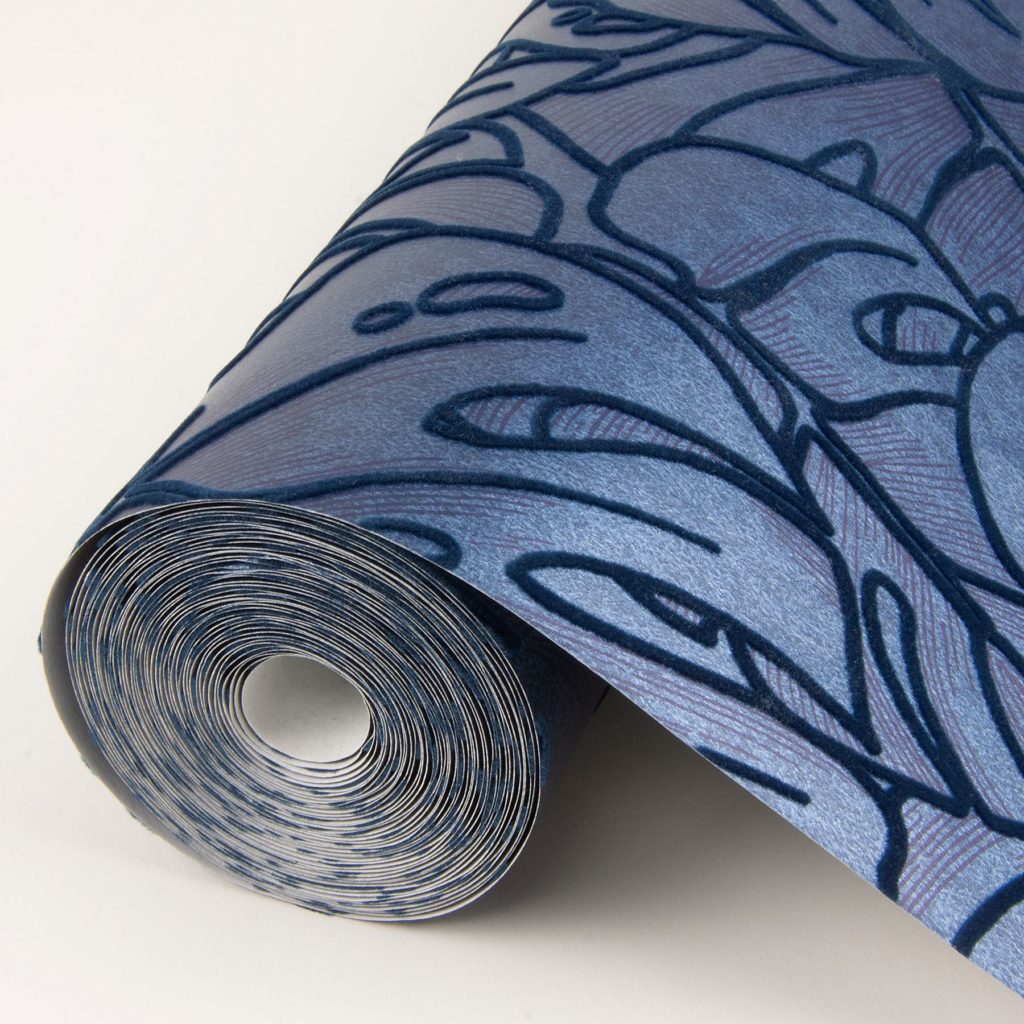 Playful yet Grounded Scandinavian Simplicity
Scandinavian style is known for its whimsical, folksy charm and simple, clean lines. As much a lifestyle as it is a design aesthetic, Scandinavian sensibilities deeply appreciate the simple beauties of the natural world.
Soothing and illustrative Scandinavian are equally at home with farmhouse stylings as they are in more playful, vibrant looks! While lighter, more neutral prints paired with antiques or distressed accents create a cozy farmhouse or cottagecore look, both bright prints and richer, moodier palettes with sleek, modern furniture turn a bland space into a wooded wonderland. No matter how you style your space, you will feel revitalized by Scandinavian's whimsical, woodland charm.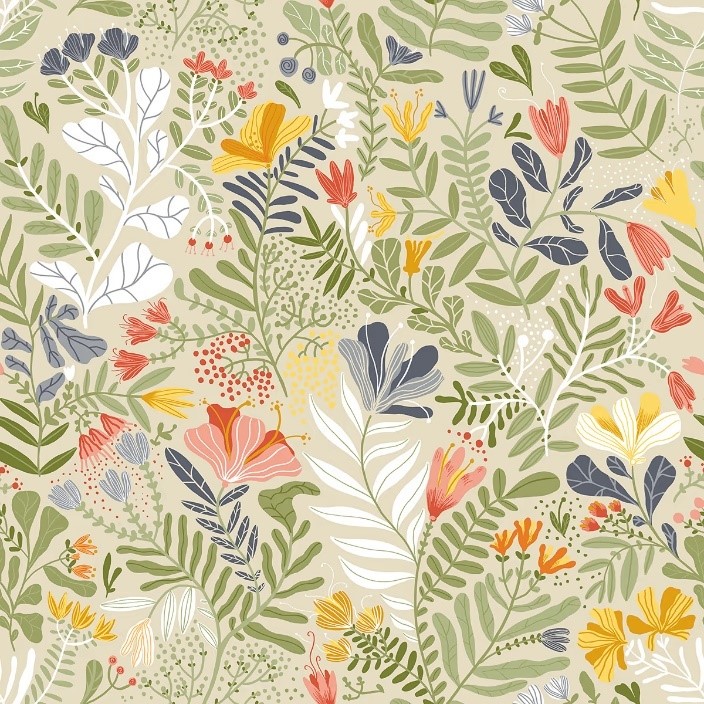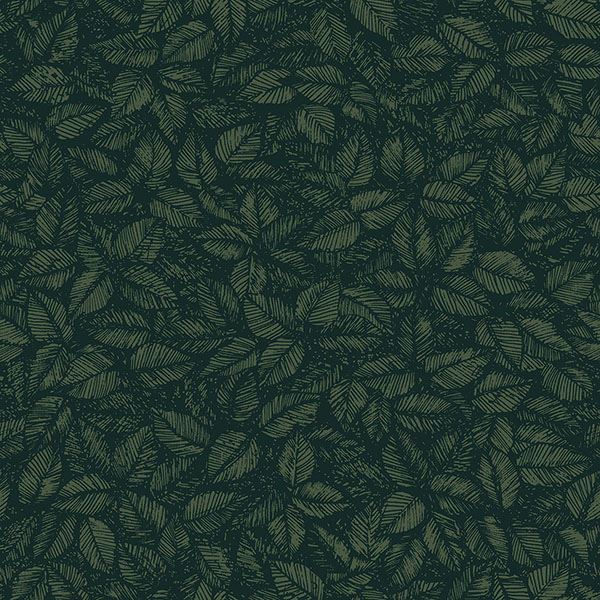 Warm and Welcoming Farmhouse Botanicals
The farmhouse aesthetic, with its light and airy colors and reclaimed wood accents, has been extraordinarily popular for a very long time! Though its long-standing popularity is really no surprise: rustic yet refined, this style is cozy and nostalgic with rich and comforting ties to the land. And these appeals can only be elevated by charming botanical accents!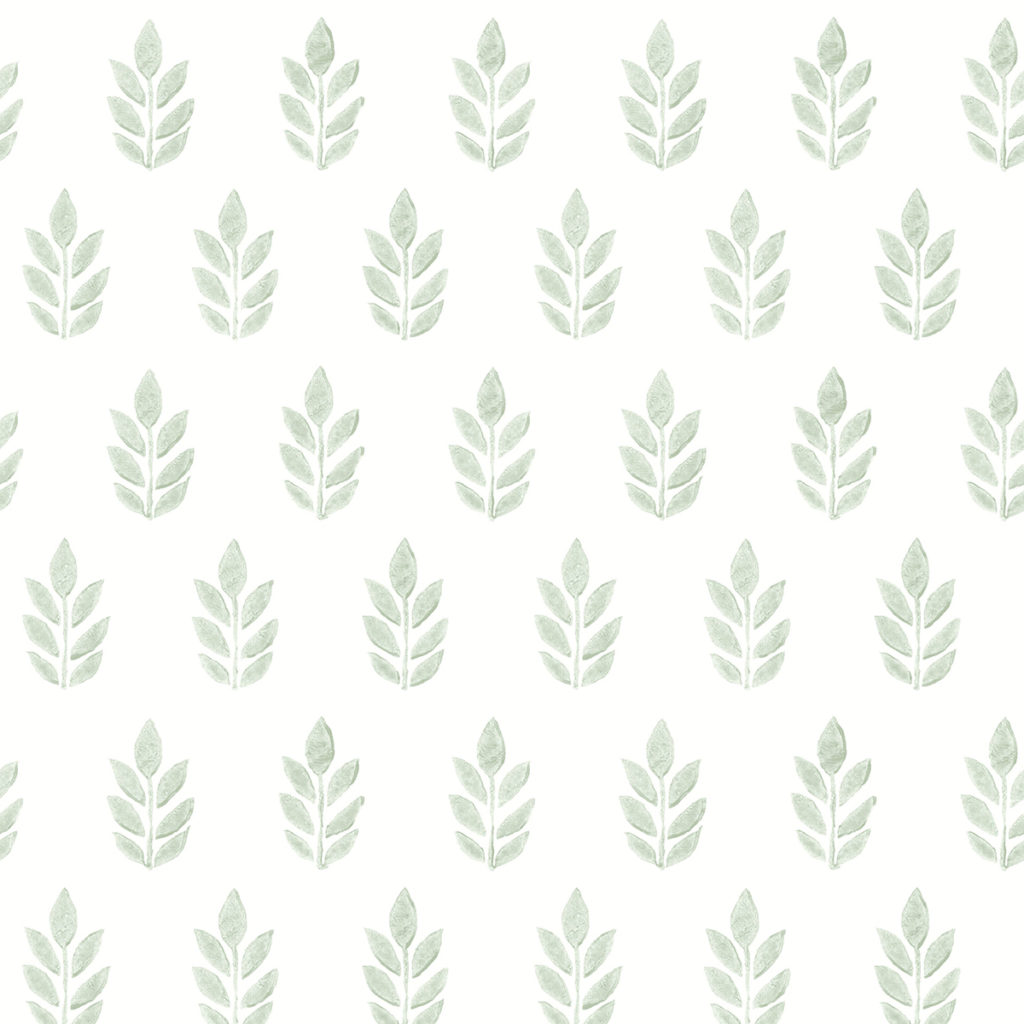 Take for example this delightfully sweet leaf wallpaper. Featuring simple block printed greenery on a bright white background, it's the perfect finishing touch to any farmhouse-styled space.
Pair it with natural wood elements, black accents, and furniture with a sleek profile for a modern farmhouse look that is both inviting and stylish.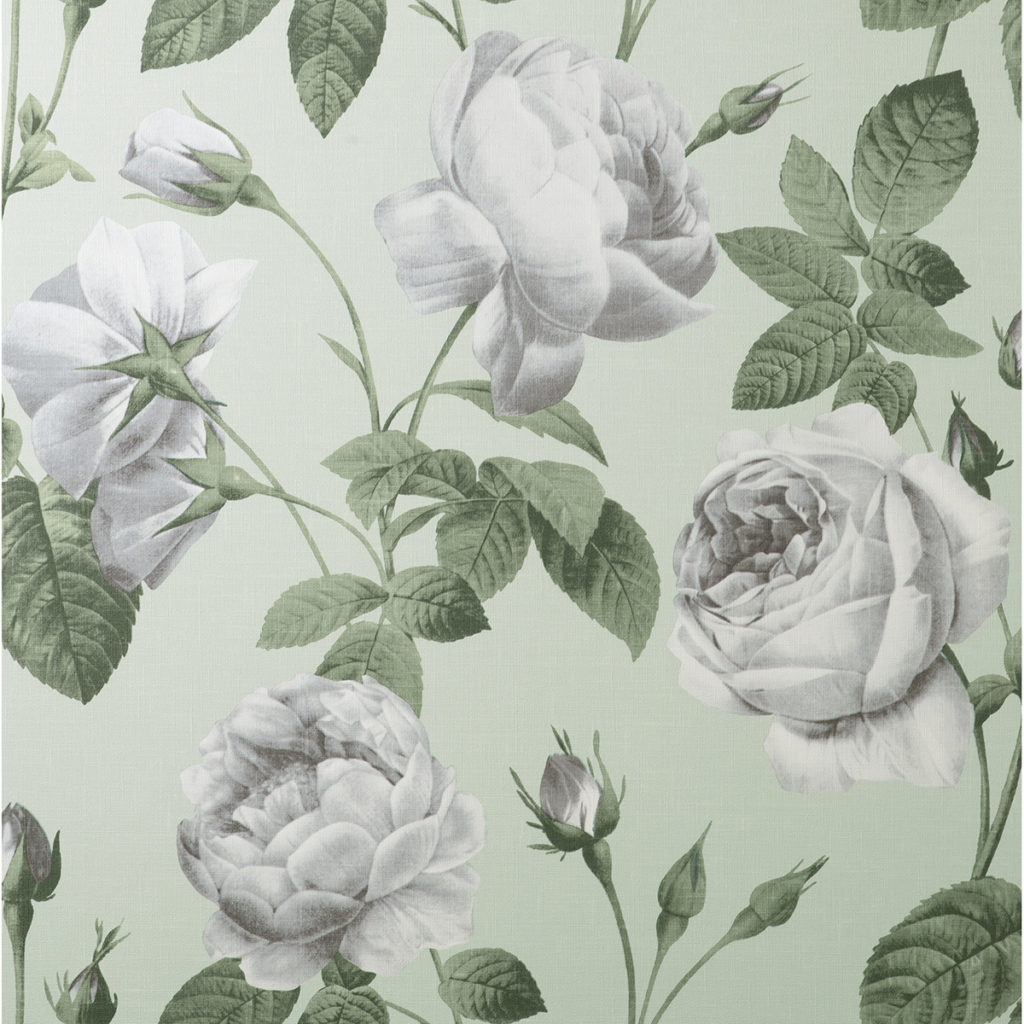 For a look that's slightly more embellished and romantic, these delicately colored blooms are an elegant way to elevate a farmhouse design while keeping it comfortable and light.
Sweet sage green and creamy white roses are both timeless and very trendy for 2022.
Traditional: Polished and Refined
Traditional style brings timeless and distinguised beauty to any home. In fact, the style has stood the test of time thanks to its versatility and effortless elegance.
Traditional styling also offers plenty of opportunity to introduce natural elements to your interiors in a very sophisticated way. With an abundance of elevated, vintage florals and ornate damasks rich with botanical detailing, there's a timeless design for every sensibility. Traditional botanical wallpapers are also perfect for bringing historic charm, character, and beauty to a new build.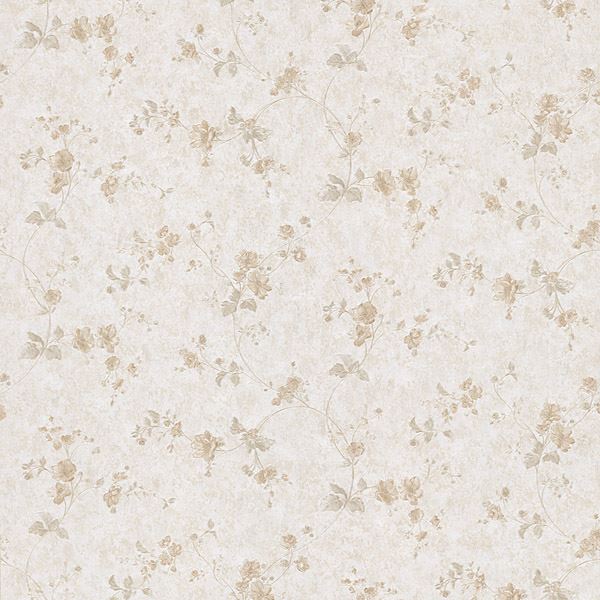 Reminiscient of Old-World floral silks and upholstery, this delicate and refined floral trail print adds effortless beauty and elegance to your home. The creeping vines and their delicate flowers add both movement and refined, natural serenity to your space. Style with antique furnishings to play up its traditional appeals, or pair with more modern fixtures for a pleasing visual contrast.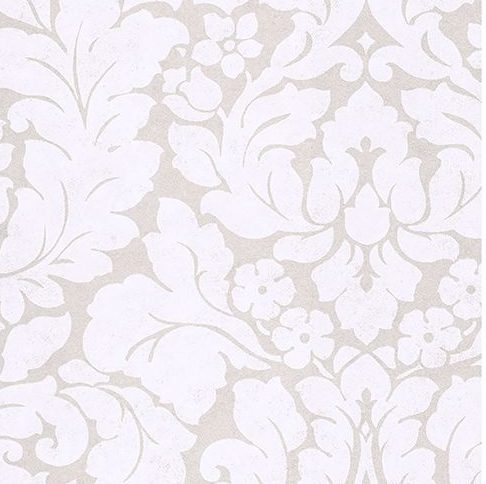 This supremely elegant damask is sure to both heighten the sophistication of your space as well as introduce a stately nod to the outdoors. Introducing this gorgeous motif to your décor will give your space a distinguished appearance that's easy to build off of, thanks to its soft, neutral coloring.
Floral Country Elegance
For a classic, country look bursting with Americana charm, nothing is sweeter than a soft floral pattern! And it doesn't get more classic than a floral trail wallpaper. This wallpaper features delicate vines inked in faded blue that climb along an aged white background, the blooms visited by birds and butterflies. Paired with aged wooden furniture, pops of blue, and floral bedding, this botanical wallpaper will create a warm country feel that will turn any house into a home.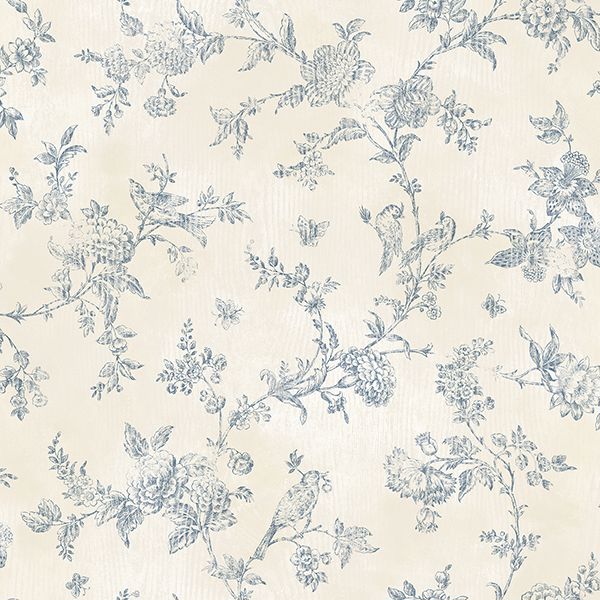 For warm country elegance with sweet prairie charms, try this darling floral design. This dainty floral print, paired with either antique or modern furniture, will bring charming character and homespun comfort to your home.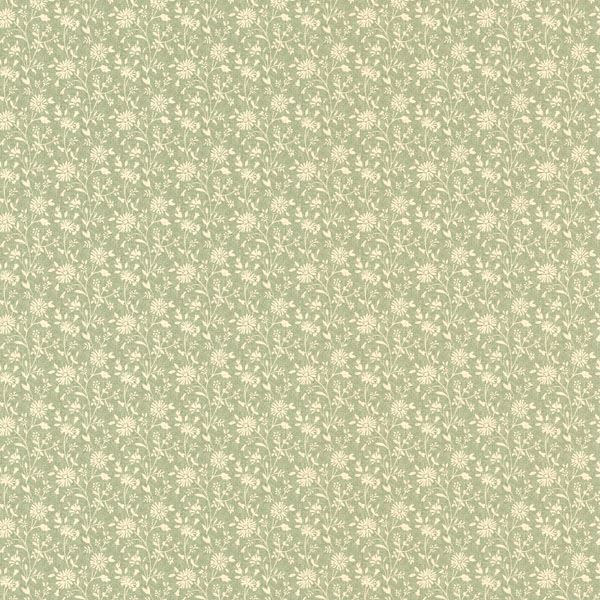 Whether you are looking to create a lush oasis to escape to, or a chic and polished space with subtle hints of the great outdoors, our selection of botanical wallpaper is guaranteed to have something for your home decorating needs in 2022.
For more style inspiration, be sure to follow Brewster Home Fashions on Instagram and tag us in your own home transformations!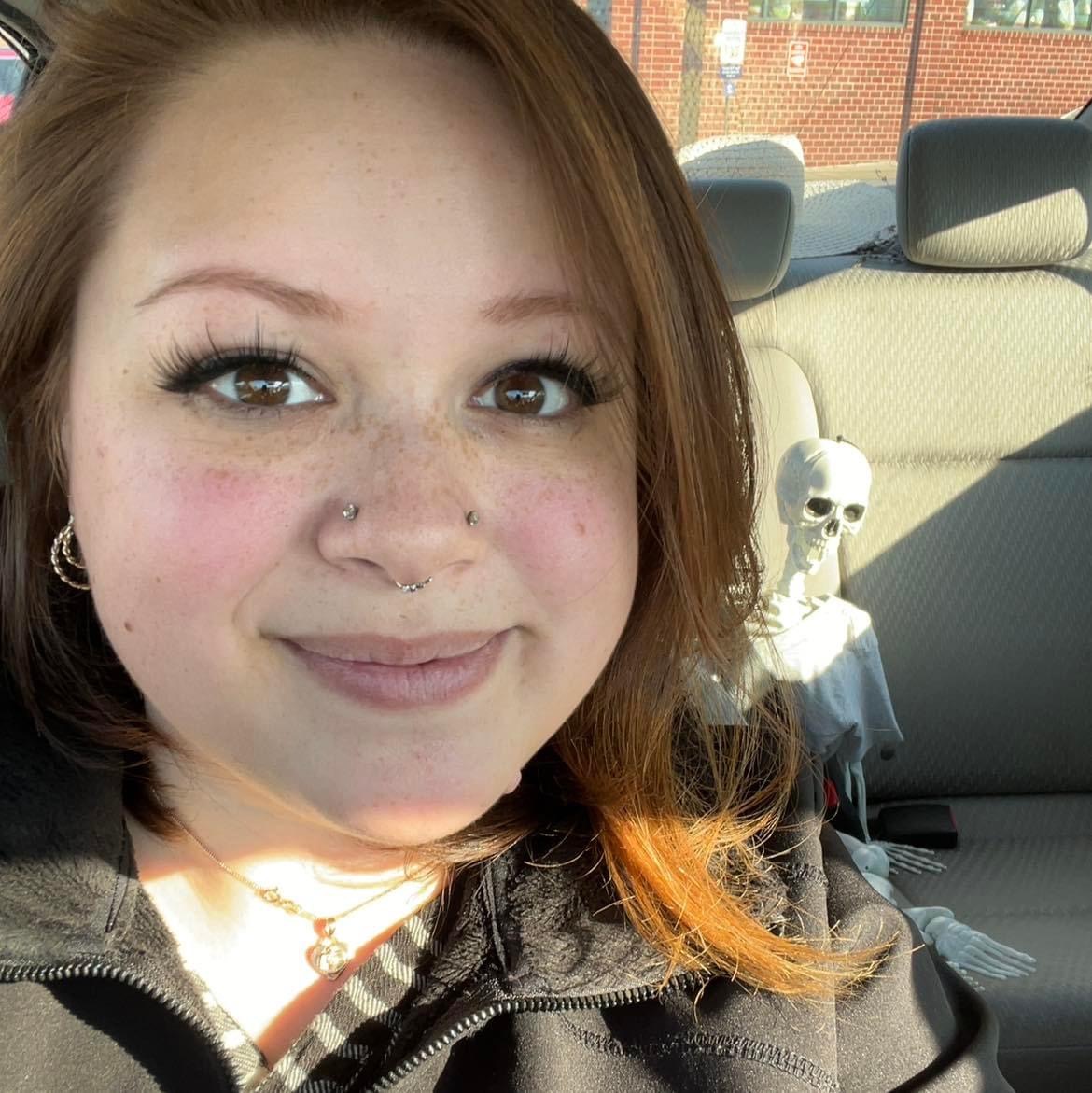 Hannah is the Marketing Communications Coordinator for Brewster Home Fashions. A dedicated design enthusiast with a passion for creating, her drive to bring ideas to reality never runs dry. In her free time, you will find her painting, arranging flowers, or curating décor ideas for her dream bohemian-styled home. Connect with Hannah through our social channels or here on LinkedIn!