Prepping for your little one is such an exciting – and busy – time! One of the most exciting preparations is creating the perfect nursery. Not only is this the space where your baby will learn about themselves and the world around them, but your nursery is also a significant space for you too. You and your family will be spending quite a bit of time in the nursery, so make sure it's a space you love as well! To help you with your nursery nesting, we've rounded up our favorite nursery ideas! From trending nursery styles to timeless décor themes, the design inspiration below will help you create the perfect space for your baby.
Earthy Gender-Neutral Comfort
Gender-neutral themes are skyrocketing, allowing you to be extra creative with your little one's space! More specifically, we are seeing lots of cozy, neutral color schemes being used to create warm, welcoming spaces that can be easily accented with fun pops of color!
To add to this sense of neutral coziness, look for furniture and accent pieces made from natural materials with terracotta, beige, taupe or white finishes. To keep the space feeling fresh and not one-note, look to add elements with different textures. This adds a sense of dimension and interest to your nursery, even when working with a small color palette.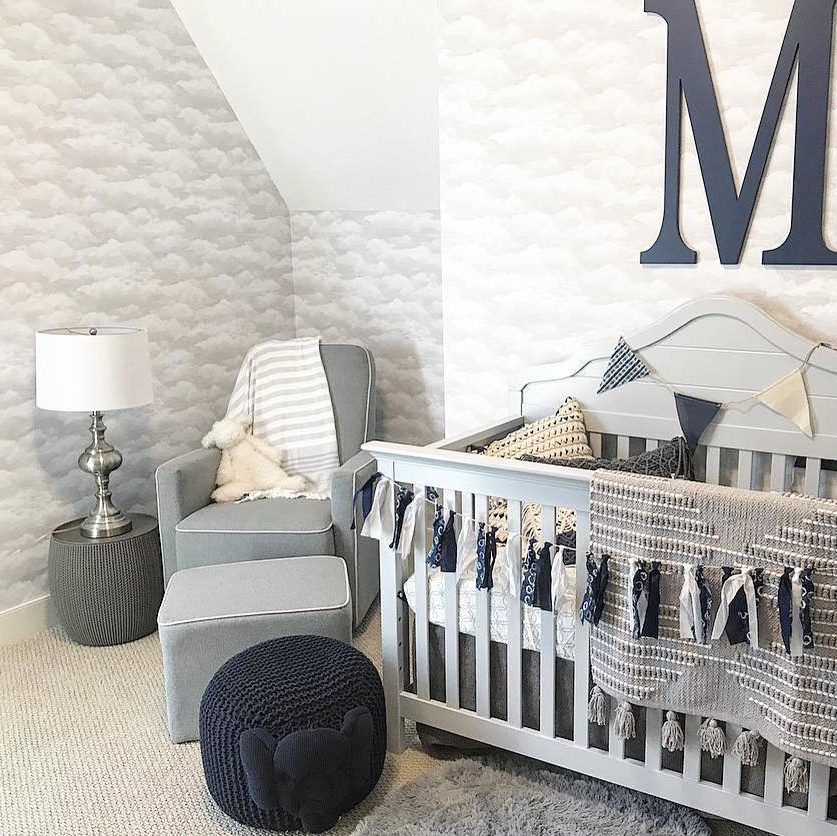 This dreamy neutral nursery is wrapped in a darling cloud wallpaper. The artistic styling of the print adds to the clouds' light and fluffy feel, perfect for encouraging sweet dreams! The darker grey and black furnishings add needed depth to the space while keeping its monotone simplicity.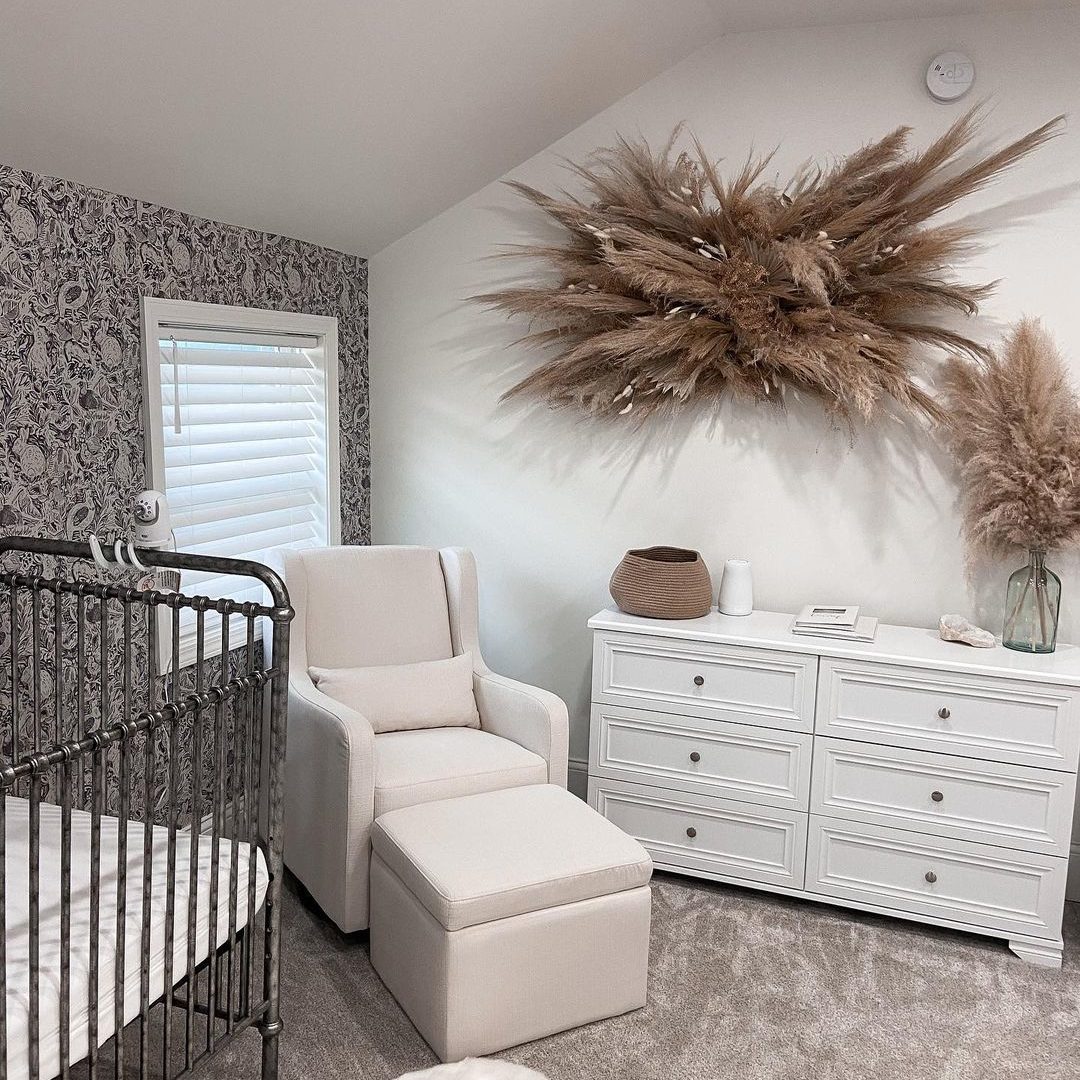 Curious and playful, these woodland critters add a bit of whimsy to the space while perfectly framing the crib. A white glider chair and dresser keep the space feeling open, while decorative dried grasses serve as a modern and natural décor accent.
Elevated Animal Prints
Animal prints have taken on new life in the world of home decor! We are seeing them in lots of different environments, but one of our favorite uses is in nurseries.
If you're exploring different nursery ideas, animal prints add a sense of playfulness and nostalgia to your space. Depending on the style you choose, they can also serve as a base for new styling as your baby gets older.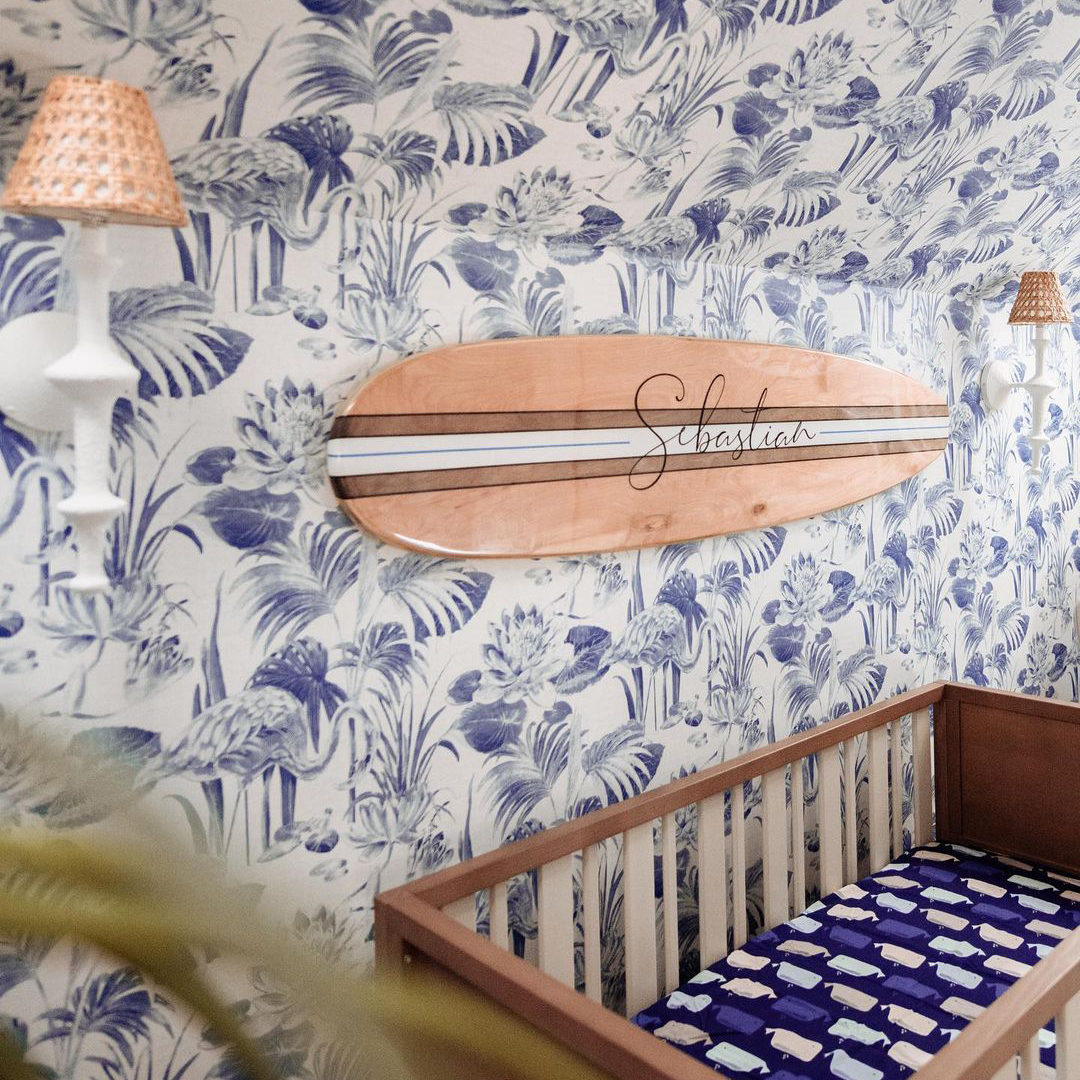 Kelsi's stunning, surf-inspired nursery is a great example of a space that can easily grow with your baby, but still has all the fun and whimsy a nursery should have! The Frolic Blue Lagoon wallpaper fuses the classic elegance of toile patterns with a playful animal print twist. We're sure baby Sebastian will love growing up in this fun-filled, flamingo retreat!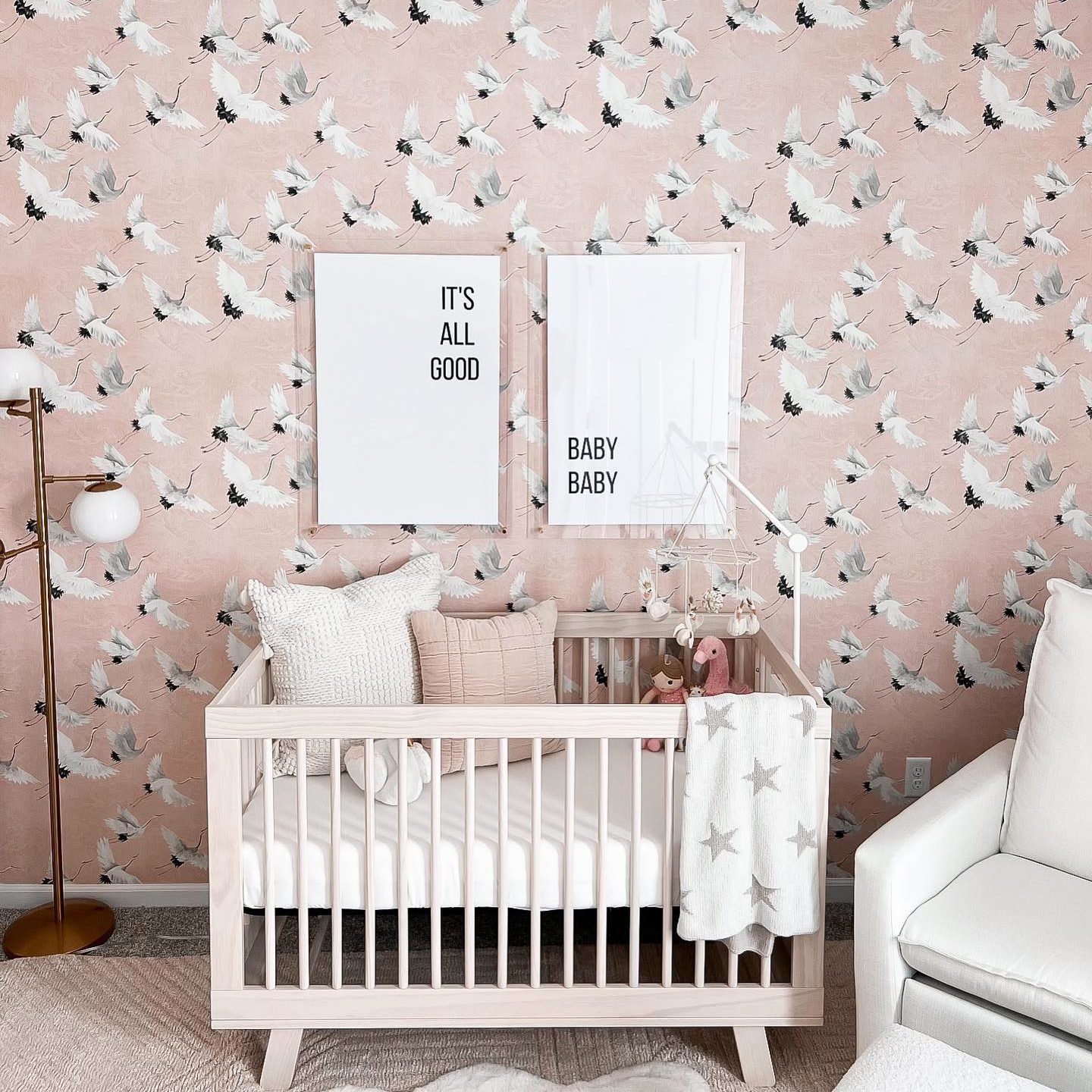 This Windsong Pink Crane wallpaper provides the perfect backdrop for a serene and charming nursery design. The warm blush tones create a comforting vibe, elevated by a beautiful chinoiserie crane print—a symbol of harmony and grace.
Murals and Wall Art
Feel like you've hit a wall with brainstorming nursery ideas? Then you might need a wall mural to create the perfect accent for you and your baby's space!
Wall murals offer excellent nursery styling opportunities! As easy (or easier) to install as wallpaper, murals offer a wide variety of design options for creating the perfect nursery accent. From scenic and photorealistic murals to large-scale designs and delightful doses of abstract color, there's a mural for every style and design theme!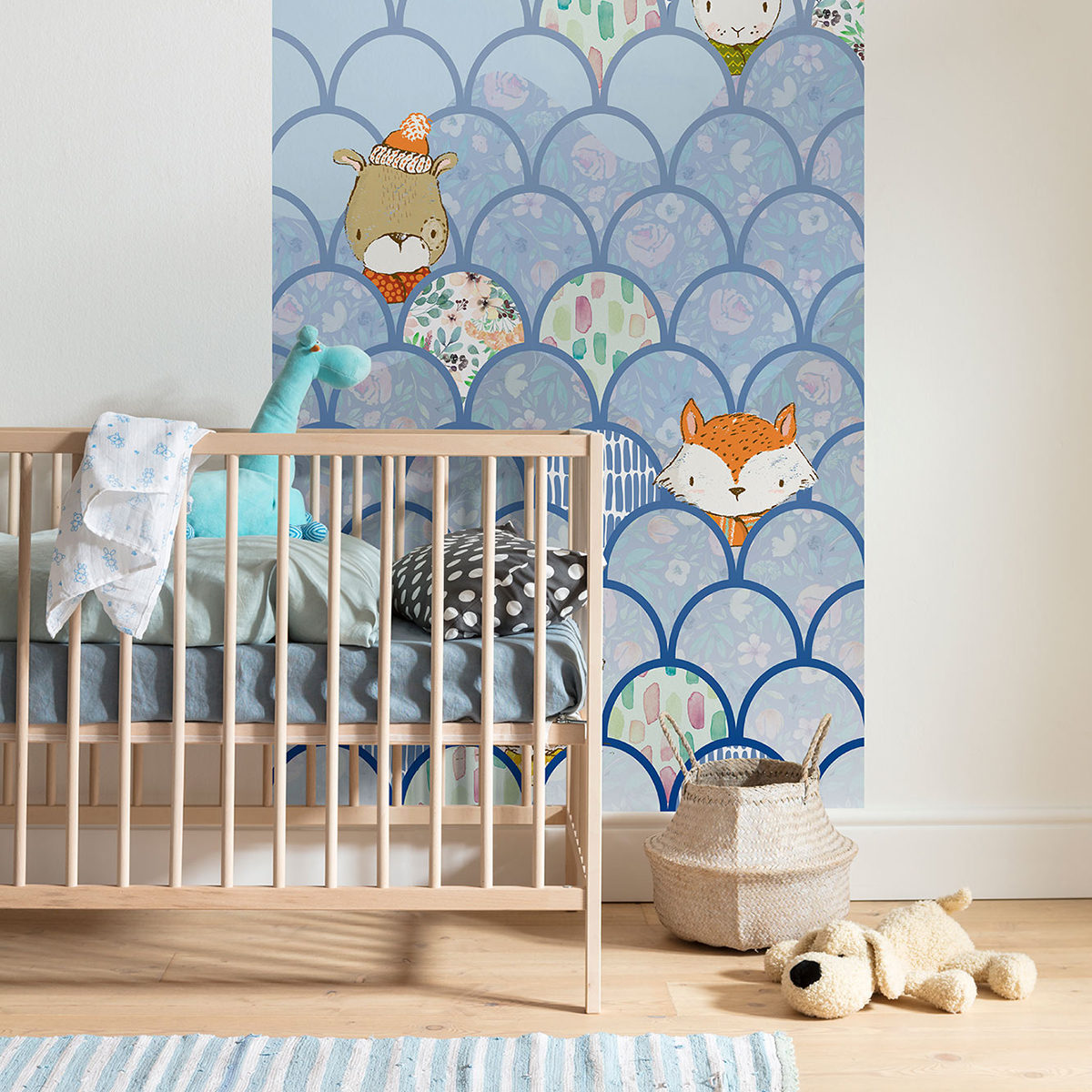 These sweet and playful wall murals would add gorgeous color and cheer to your nursery! Encourage sweet dreams with a smiling and serene moon to guard your baby's sleep or surround your little one with a variety of forest friends with this charming, scalloped design.
Scandinavian Woodland Style
Scandinavian-style nurseries are a staple – and for good reason! With extra emphasis on the whimsical woodland aspect of Scandinavian design, these nurseries are a truly magical space for your little one to grow up.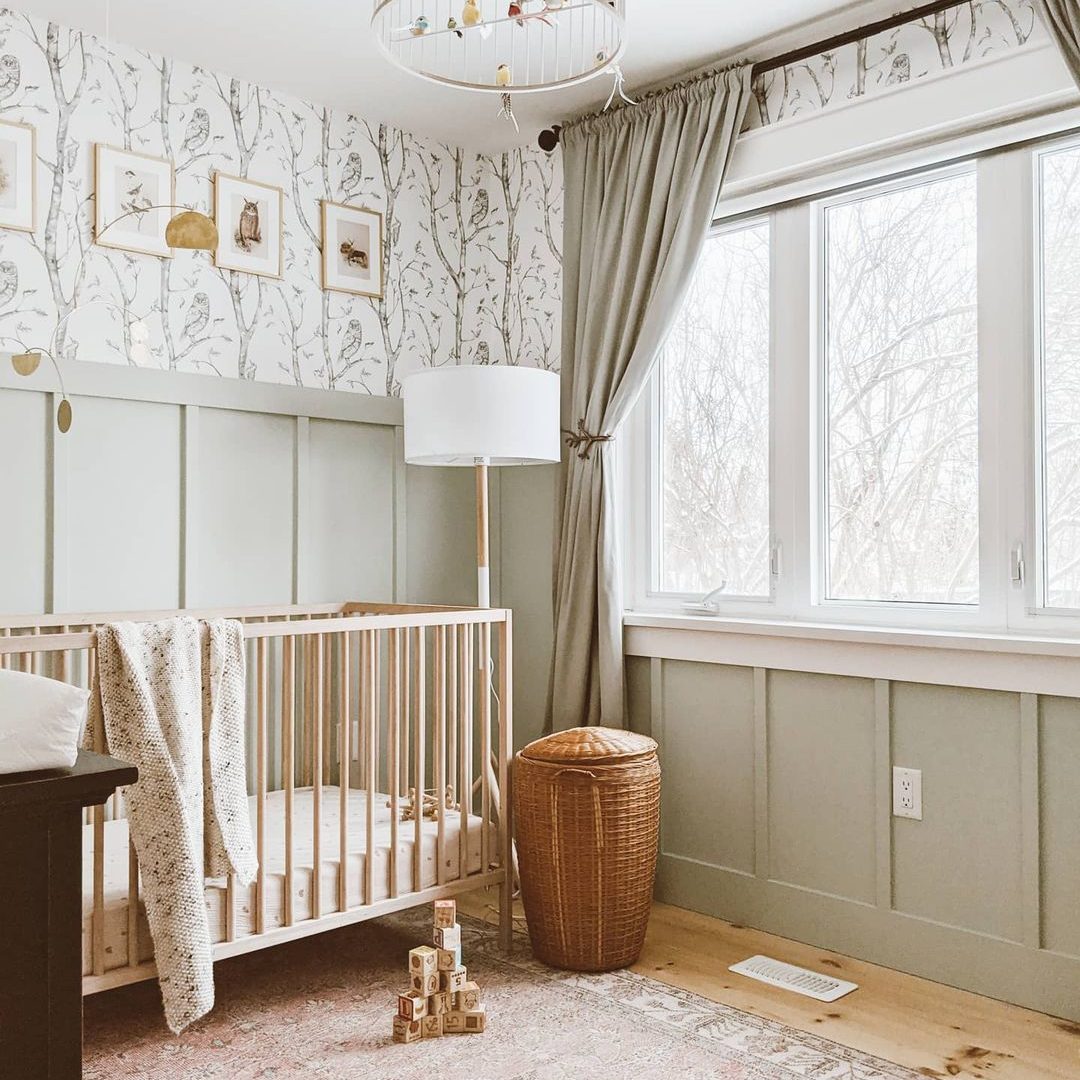 This darling woodland-themed nursery showcases bright whites, soft sage green, and lots of natural elements. Its calm and welcoming atmosphere is further enhanced by the Neptune Forest wallpaper. Featuring small owls perched among a birch tree forest, the design is equal parts elegant and enchanting and brings a sense of magic and wonder to this sweet space!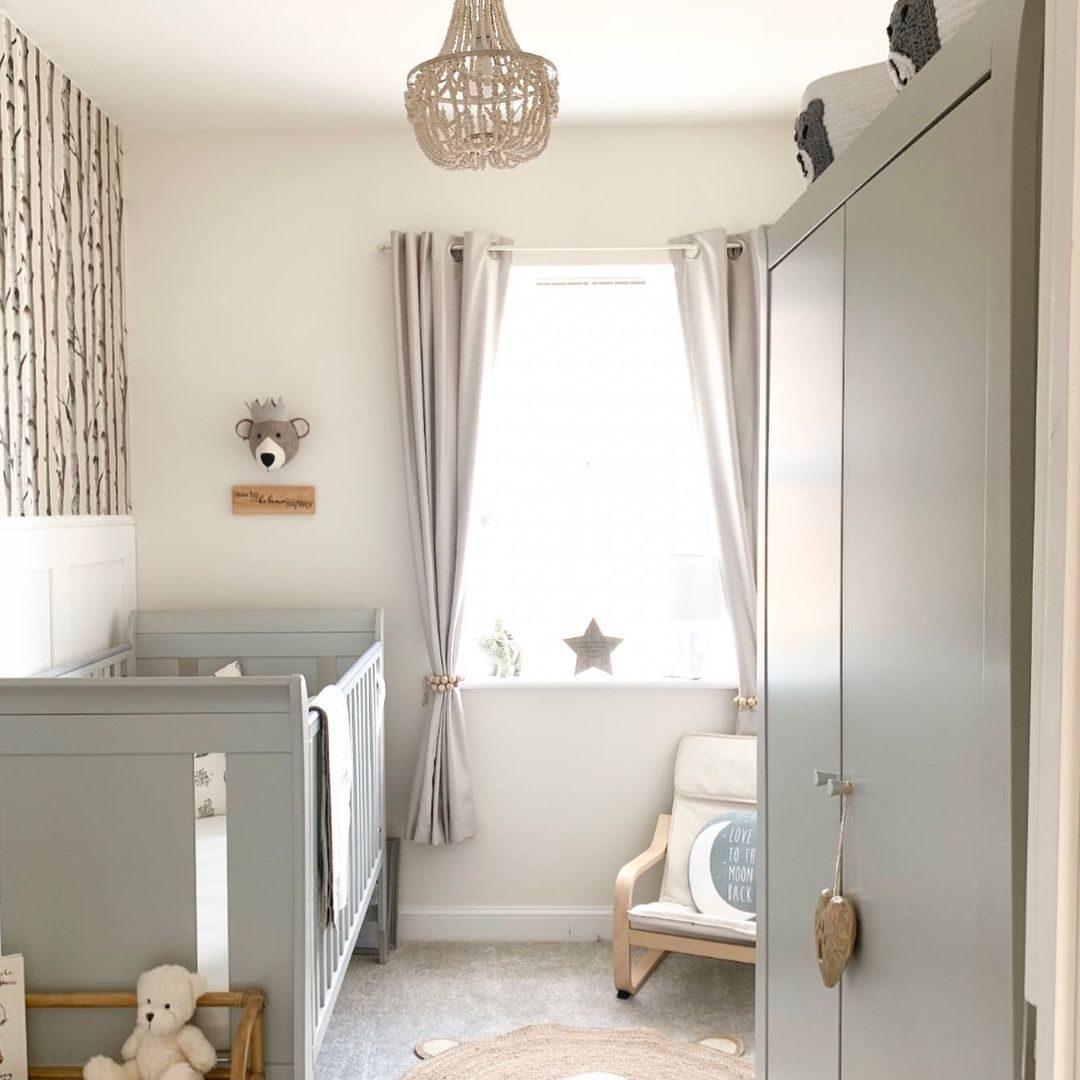 Bring the whimsy and charm of the forest to your little one's space with this Tuxbury Birch Tree wallpaper. Paired with soft greys, bright whites, and sleek furniture, this print will complete your Scandinavian nursery styling with a warm and cozy finish.
Bold Monochromatic
Bold monochromatic interiors featuring fun colors have taken the interior design world by storm. However, don't be fooled into thinking one color means one note! By playing with varying tones and shades, you can create an incredibly dimensional and put-together space.
For added flair, introduce a select pop of color to highlight and elevate the monochromatic majority!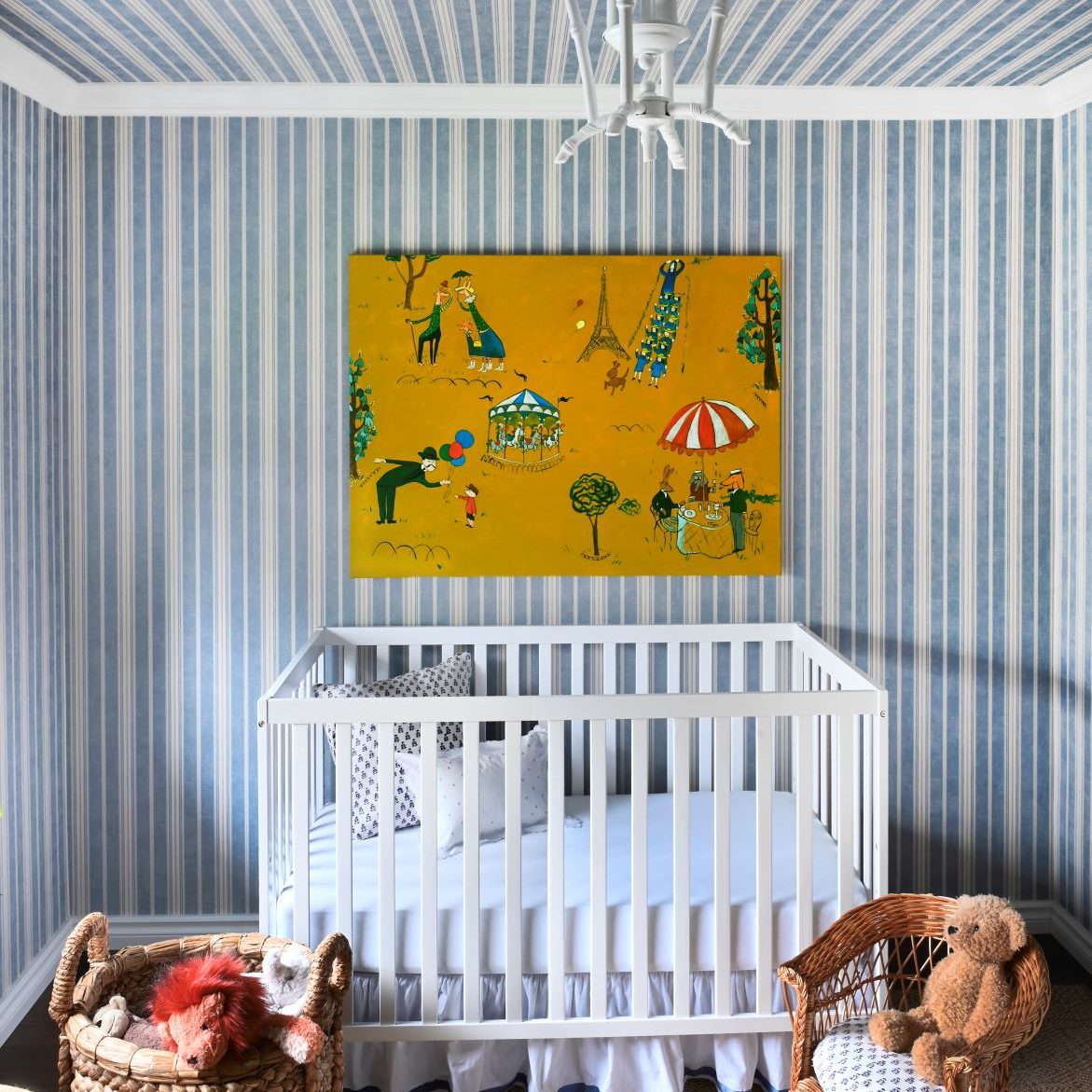 Nancy used this charming blue print as the basis of her darling blue nursery! The soothing shades of blue – paired with the occasional pop of sunshine yellow – creates an inviting, serene, and perfectly-balanced space for her little one to enjoy for years to come.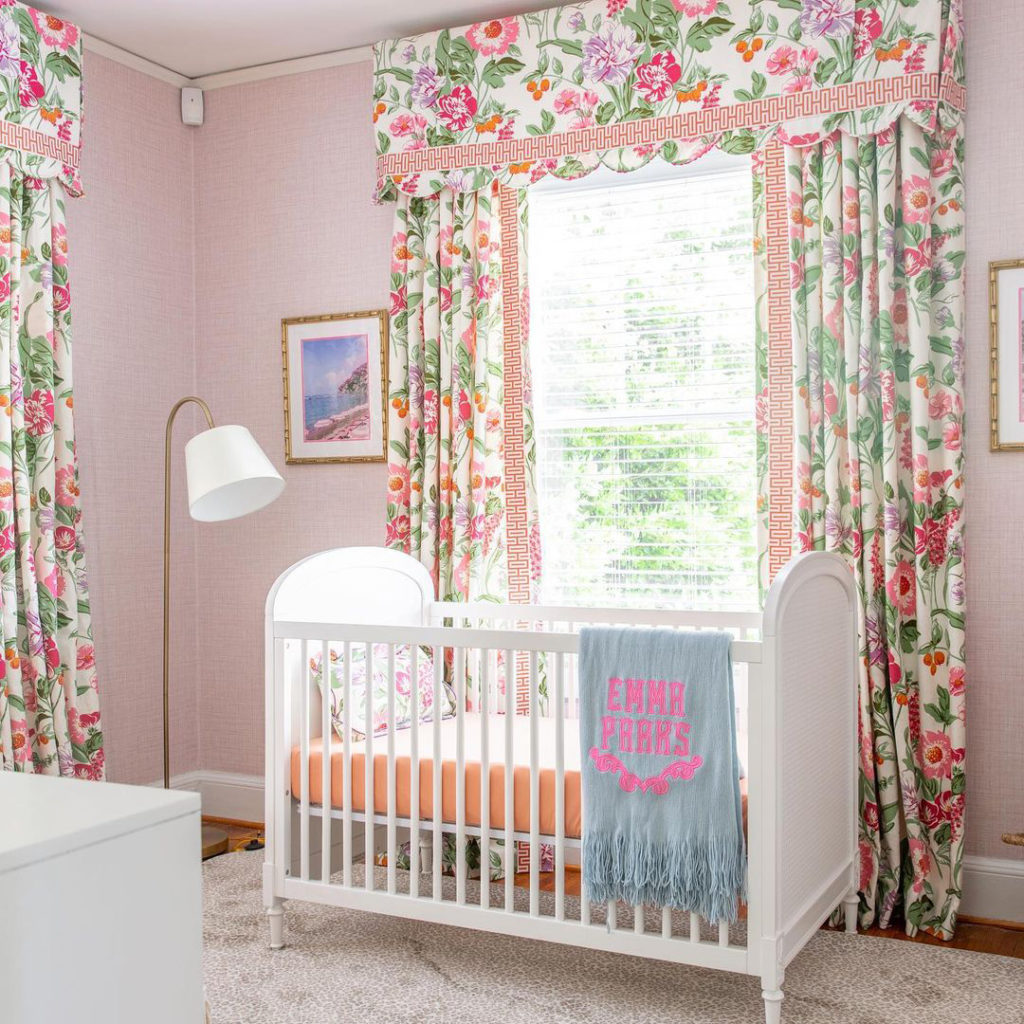 This nursery that Nichole put together for baby Emma is pretty in Poise Pink Linen! Textured wallpaper introduces a dimensional element to the room, while those gorgeous floral curtains and touches of pink and peach throughout create a dreamy space for a sweet baby girl to grow up.
Styling your baby's nursery is an opportunity to create a room that's just as special as they are! No matter what nursery style you're considering for your little one's room, wallpaper or a wall mural can take your design to the next level. From dreamy cloudscapes, to elevated animal prints, to woodland whimsy, there is a perfect print for your project at brewsterwallcovering.com.
For more style inspiration, be sure to follow Brewster Home Fashions on Instagram and tag us in your own home transformations! #BrewsterHome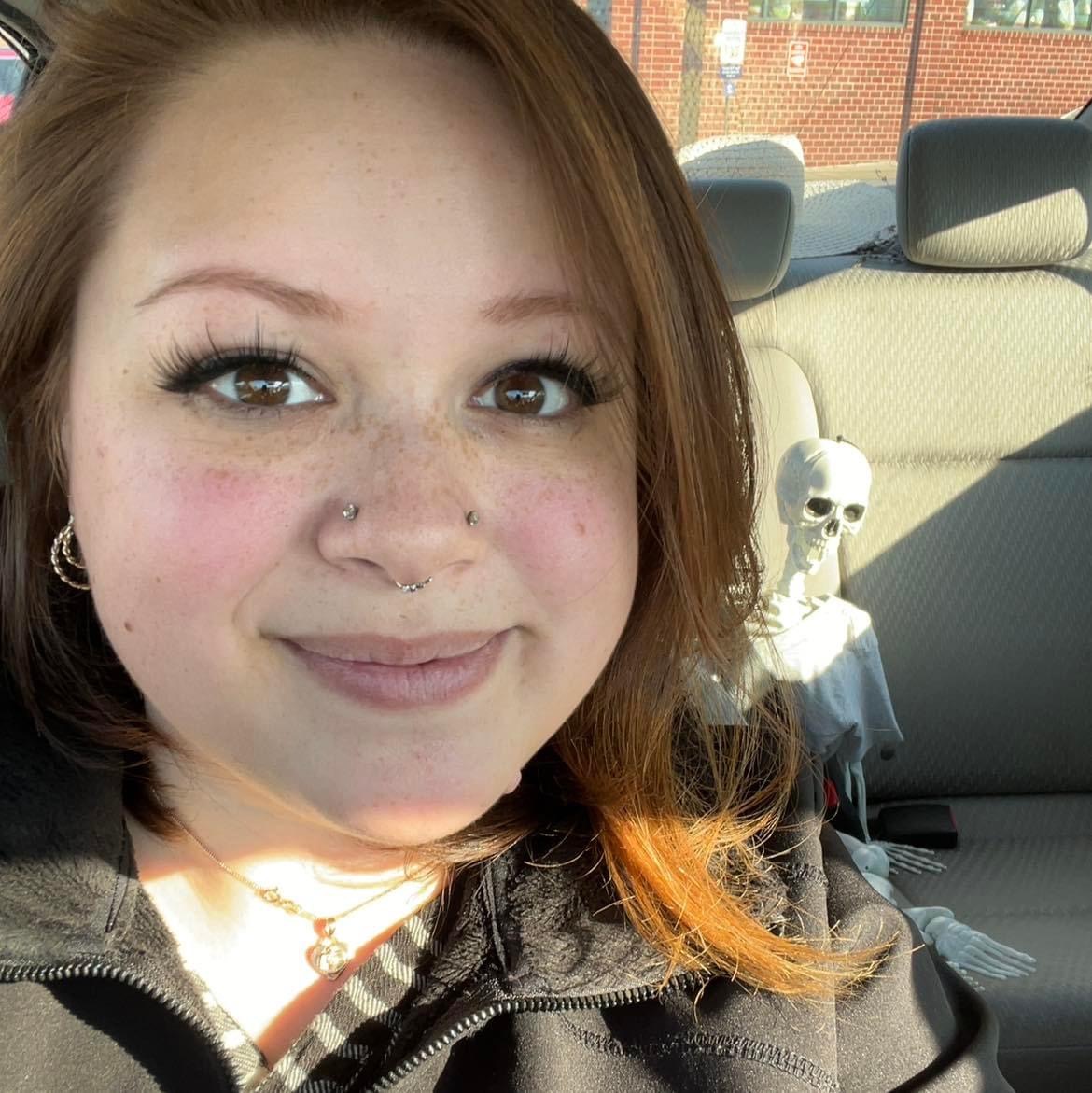 Hannah is the Marketing Communications Coordinator for Brewster Home Fashions. A dedicated design enthusiast with a passion for creating, her drive to bring ideas to reality never runs dry. In her free time, you will find her painting, arranging flowers, or curating décor ideas for her dream bohemian-styled home. Connect with Hannah through our social channels or here on LinkedIn!