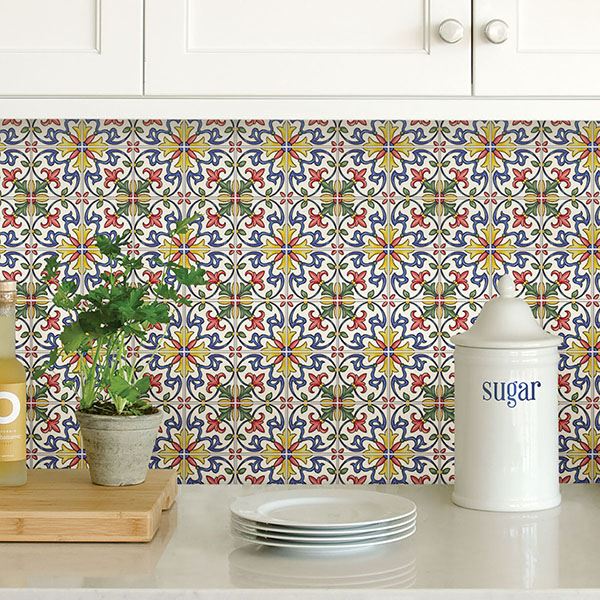 Colorful leaves, crisp weather, and warm apple cider – these are just a few of our favorite things for the fall season! Autumn is right around the corner and it's time to swap out your summer accents for some cozy fall pieces. Prepare your home for the autumnal equinox and explore the upcoming fall trends of 2019.
1. Burnt Orange
Full of autumnal influence, these burnt orange wallpapers call upon the crisp leaves of fall while gold accents evoke memories of the past summer. Inspired by the Chinese lattice pattern, this unique print would perfectly complement a maximal interior.
This second print features a retro geometric design that exudes vibrant energy. Bright hues of orange, red, and yellow pop against a mosaic-textured wallpaper.
2. Mixed Metallic Accents
Mixed metals are hitting the home decor market and we are loving it! An ensemble of metals is a timeless and chic way to add texture and balance to a space. This metallic arrangement combines an organic floral piece paired with mixed metal accents.
This metallic accent mirror is an easy way to incorporate texture into the home interior. It is a simple and chic piece that can be paired with assorted hued accents to create a stunning arrangement for any season.
3. Boldly Patterned Backsplashes
White tile kitchens are plain and outdated. Swap out subway tiles for a vibrant and eclectic Tuscan floral backsplash. Hues of red, yellow and dark green embody the classic fall color palette.
This boldly patterned backsplash perfectly hits the mark. Blue and white hues are featured in this eclectic print. A subtle nod to bohemian versatility, this design would work as a great addition to the classic white kitchen finish.
4. Wood Accents
Give your farmhouse interior a lift with the refreshing addition of rustic wood accents. Transform your space into a serene autumn forest and embrace natural elements like these wood wallpaper print. Their organic texture and distressed detailing exude subtle nods to nature while complementing this chic living space. Incorporate white or grey exposed wood for a modern yet classic look.
5. Floral Wallpaper Prints
Dainty and charming, the traditional floral print continues to grace walls with their natural beauty and timeless quality. Fall in love with this hand-drawn vintage wallpaper. It's subtle hue nods to the trending autumn tone Biking red, one of the featured shades in Pantone's seasonal palette for 2019.
Explore florals in a neutral hue like this moody grey. Sweet white flowers adorn this cozy modern wall covering.
6. Feminine Tones
Pair the warm and inviting atmosphere of the fall season with a home interior to match. Soft feminine hues like blush, lavender, and bronze exude the same subtle tones of the basic neutral palette but with a playful twist. These tones add instant contemporary style to a tired interior drown out by a bland palette. Spice up your space with a dash of feminine flair.