First making waves in the 17th century, chinoiserie is once again taking the design world by storm! Its elegant and fantastical stylings have captured the hearts of trendy grandmillennials and staunch traditionalists alike – but what exactly is chinoiserie?
For starters, chinoiserie is a European style born from a fascination with the goods and tales 16th and 17th-century traders brought back from distant China. This fascination spurred an incredible demand for Asian wares, particularly Chinese porcelain. To meet this demand, European manufacturers began creating their own imitations. The result was a style that blended European design sensibilities with fantastical re-imaginings of Chinese life and design motifs, including exotic flowers, trees, birds, dragons, and pagodas.
The obsession with chinoiserie lasted well into the 18th century before beginning to wane in the early 1800s. However, good design has a way of circling back around, which brings us to the current chinoiserie revitalization!
Modern Day Chinoiserie
Chinoiserie has become a feature of several design movements, most prominently the grandmillennial aesthetic that has stolen hearts for several years now. However, the style is gaining traction on its own and is often the star in many modern stylings. Here's a look at some of our favorite chinoiserie designs featuring murals and wallpaper:
Chinoiserie Mural Masterpieces
First up, we have this gorgeous music room designed by Mehr Niazi for her brother-in-law and his wife. Their current space was a little bare and in need of some TLC, and Mehr brought all her love for her in-laws to the space.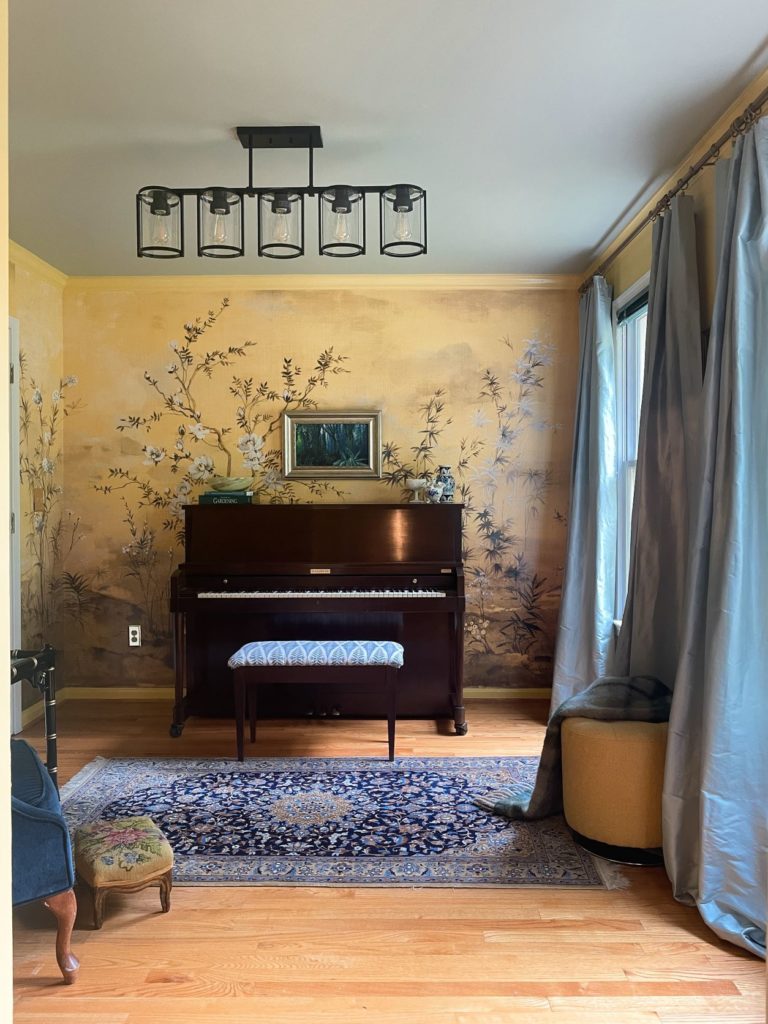 First, she chose a stunning yellow chinoiserie mural to be the focal point of the room. She then continued the warm, buttery yellow throughout the space, softly accented by a light blue ceiling and floor-length curtains that matches the floral detailing in the mural. To give the space a refined and magical feel, she chose a sleek black chandelier and plush accent furniture so the family could gather and enjoy a quiet moment or private concert together.
For a more fantastical look with lots of chinoiserie flair, try out this eclectic botanical wall mural. The pink and green color palette is very much in vogue, the design's whimsical details bringing a playful touch to the sophisticated style. For hidden among the oversized Jacobian flowers are tiny, green, cat-like dragons and graceful, fiery-red phoenixes.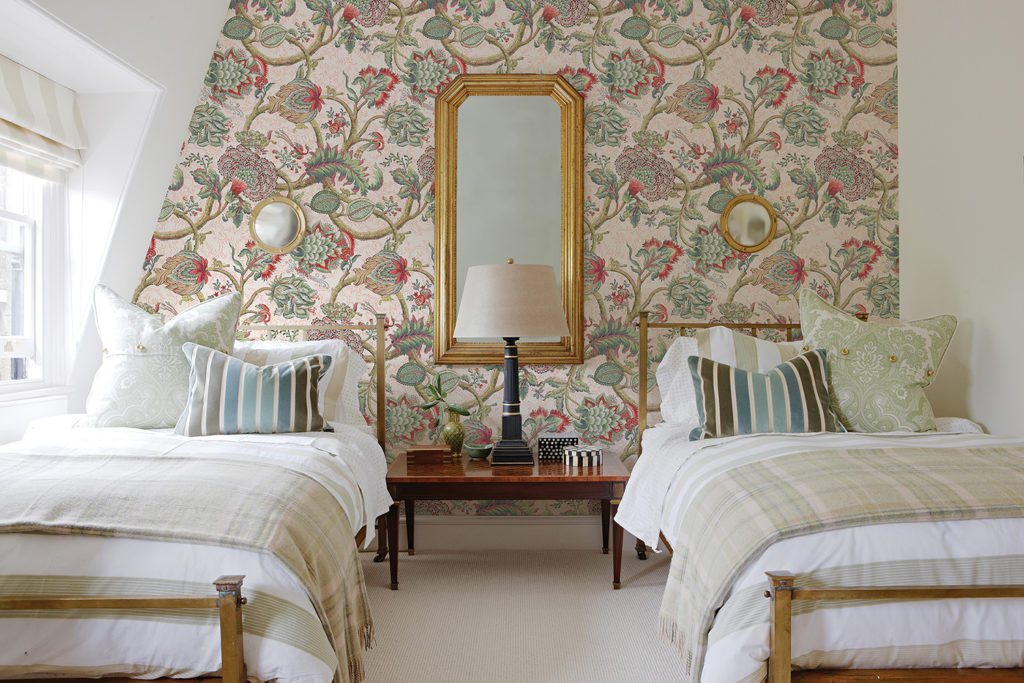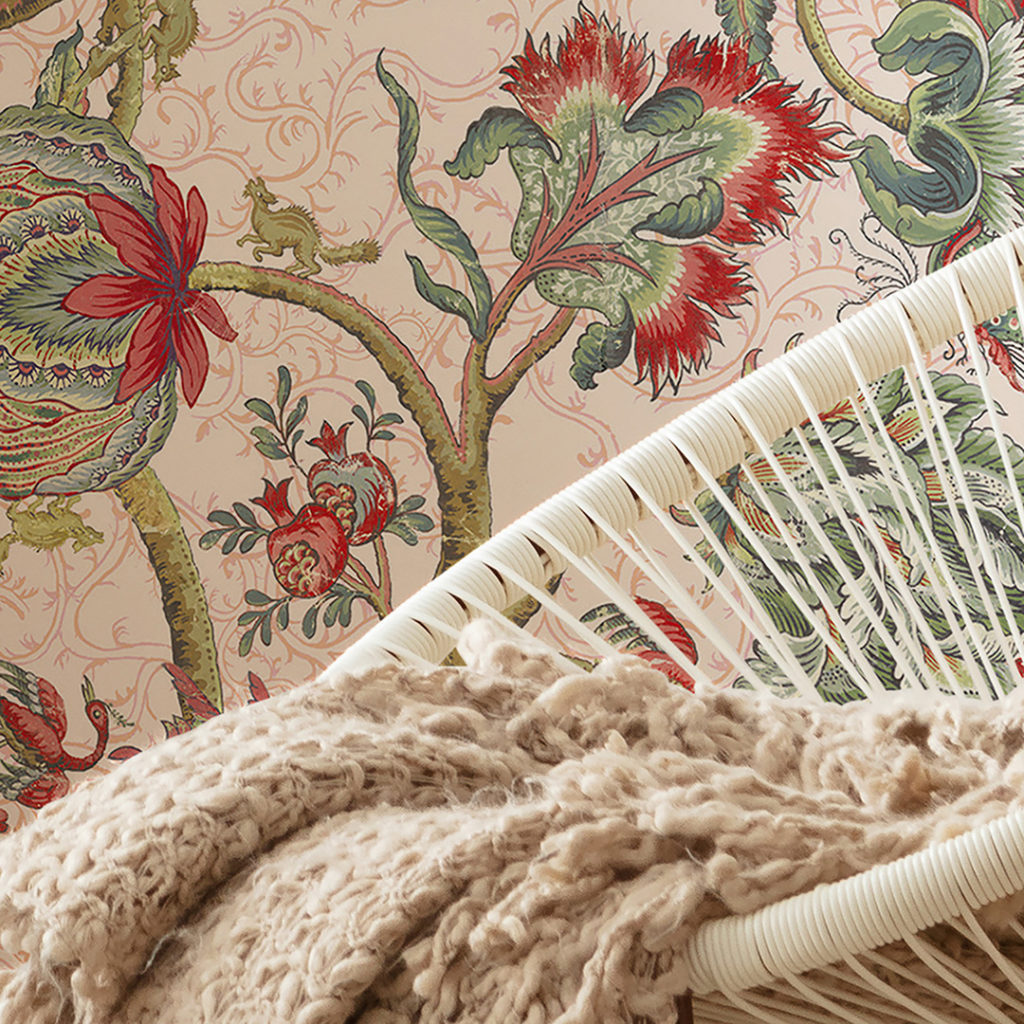 Magical Chinoiserie Nurseries
Chinoiserie's sweet sophistication makes it a perfect styling option for nurseries, especially ones for darling little girls. And this charming floral design by interior designer Nichole Turner Blough is a perfect example!
The star of this design, without question, is the set of gorgeous floral curtains and valance. The traditional, painterly style of the flowers is elevated further by the geometric red trim. To soften the bold beauty of this pattern, Nichole chose a delicate pink linen textured wallpaper. Golden bamboo-styled picture frames add to the space's chinoiserie feel, while the simple and sleek furniture keeps the space feeling open and light.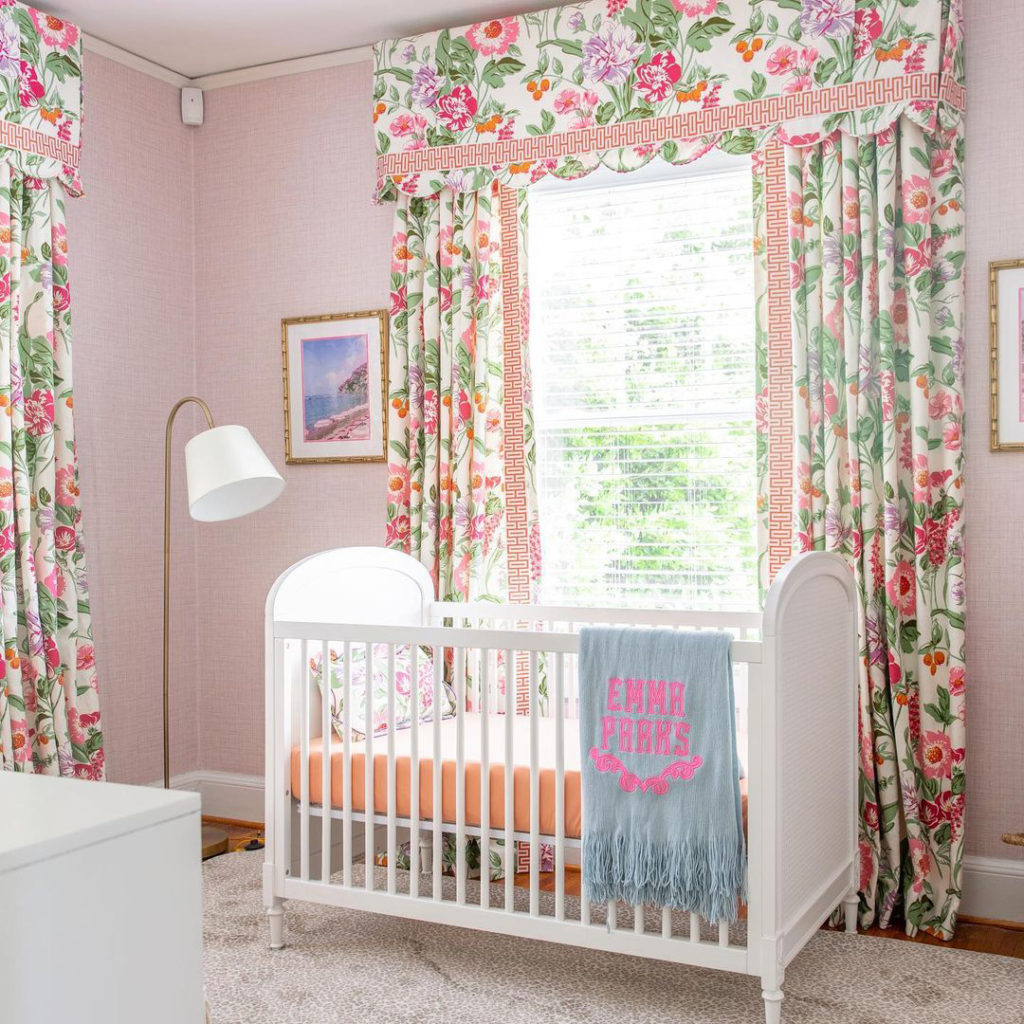 Interior designer Ariel Okin created another charming chinoiserie nursery, and this vignette perfectly captures its styling perfection! This space also features a chic pink and green color palette, the walls given extra sweetness with a pink woodland wallpaper.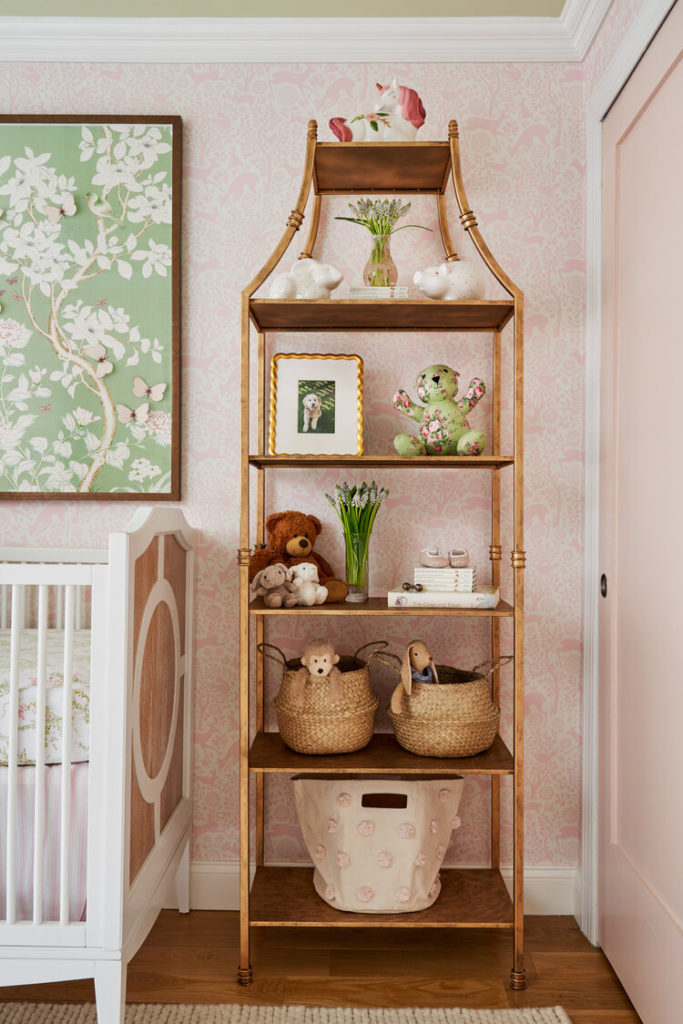 The lovely green chinoiserie panel featuring graceful tree branches and fluttering butterflies adds another splash of color and style above the crib, while an elegant, golden pagoda-shaped bookcase holds an array of sweet mementos for parents and baby alike.
Neutral Chinoiserie Elegance
While chinoiserie designs often features a bold and beautiful array of colors, the style is also extremely elegant in soft, neutral hues. And this bathroom by Ashley S Whiteside is a perfect example of neutral chinoiserie elegance! The gorgeous toile wallpaper she used depicts an Asian mountainside dotted with majestic forests, rushing waterfalls and peaceful pagodas. Sage green and pale mint paint adds extra tranquility and a touch of color to the space, with a sleek and modern double vanity rounding out the space.
Neutral chinoiserie wallpapers are especially perfect for dining rooms, as they add both refinement and warmth to your hosting space! Columns of exotic birds perch along a flowering vine to bring a touch of playful sophistication to this dining area. Illustrated in shades of grey, this wallpaper has a slightly aged feel that further adds to the sense of sophistication, while modern seating including corner bench and bamboo chairs bring a fresh feel to the space. The elegance and airiness combine to create a space you'll love to host in, and your guests will want to linger at!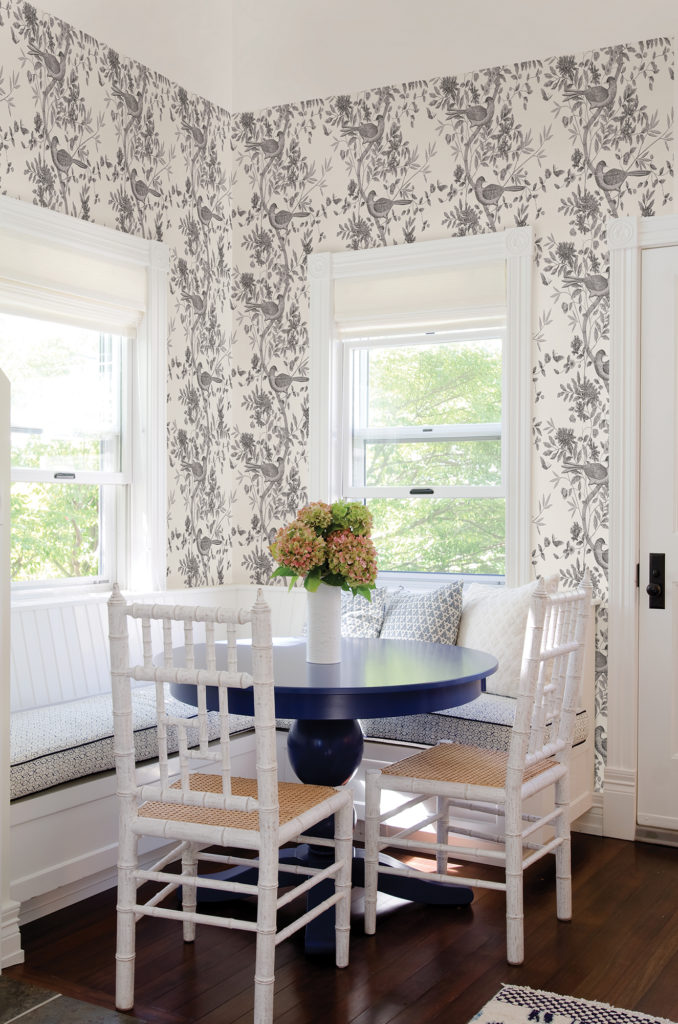 Ready to give chinoiserie a chance in your own home? Be sure to share your stylings with us by tagging us on Instagram. And for more styling inspiration, be sure to follow us on Pinterest!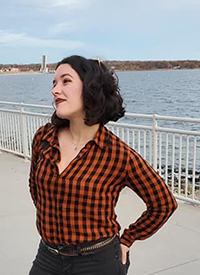 A design enthusiast thrilled to be decorating her first & forever home, Jen covers all things interiors with a special emphasis on strategies for developing beautifully simple and simply beautiful style. When not mentally curating her dream home, she can be found honing her submissions skills in Brazilian Jiu-Jitsu and Krav Maga.