Still trying to think of that perfect gift for the people left on your list this holiday season? Check out these 4 gift guides for some inspiration!
Gifts For The Hostess
Help your favorite hostess throw the best-decorated get-togethers ever with these thoughtful gifts.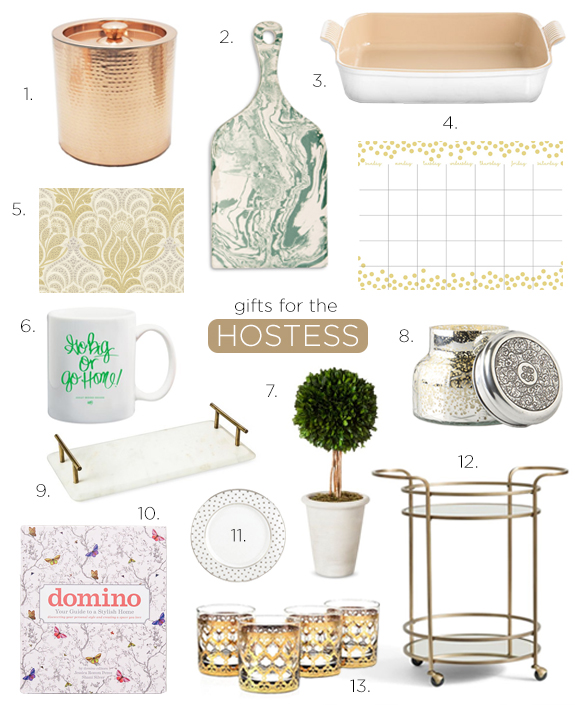 1. Hammered Copper Ice Bucket
2. Swirl Serving Board
3. Baking Dish
4. Dry-Erase Calendar
5. Damask Wallpaper
6. Go Big or Go Home Mug
7. Boxwood Topiary
8. Iridescent Candle
9. Marble Tray
10. Coffee Table Book
11. Tidbit Plate Set
12. Bar Cart
13. Gold Glasses
Gifts For The Adventurer
For the outdoorsy types or your jet-setting friend with a case of serious wanderlust, we've gathered these gifts to complement their adventurous spirit.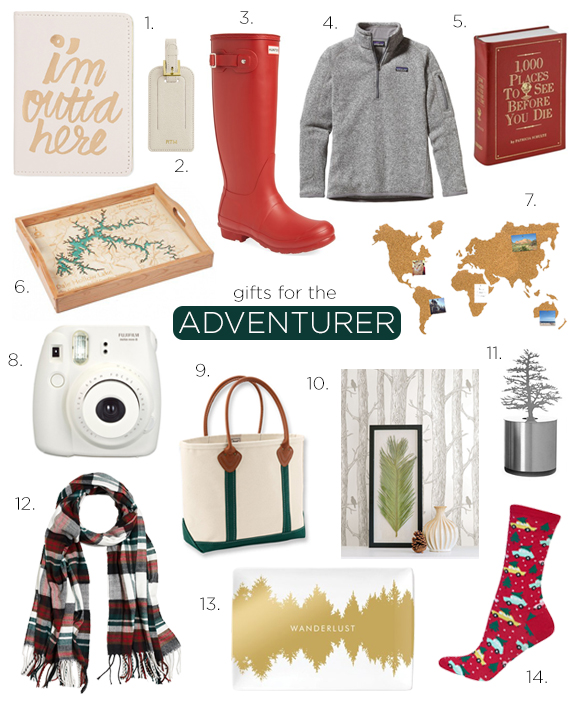 1. Passport Cover
2. Personalized Luggage Tag
3. Rainboots
4. Quarter Zip Pullover
5. 1,000 Places To See Before You Die Travel Book
6. Topography Serving Tray
7. Corkboard World Map
8. Fujifilm Instax Camera
9. Tote Bag
10. Forest Temporary Wallpaper
11. Candle Shadow Projector
12. Plaid Scarf
13. Wanderlust Ceramic Tray
14. Novelty Socks
Gifts For The Animal Lover
Whether the person you're shopping for loves animals or just appreciates the cuter things in life, these gifts are sure to delight.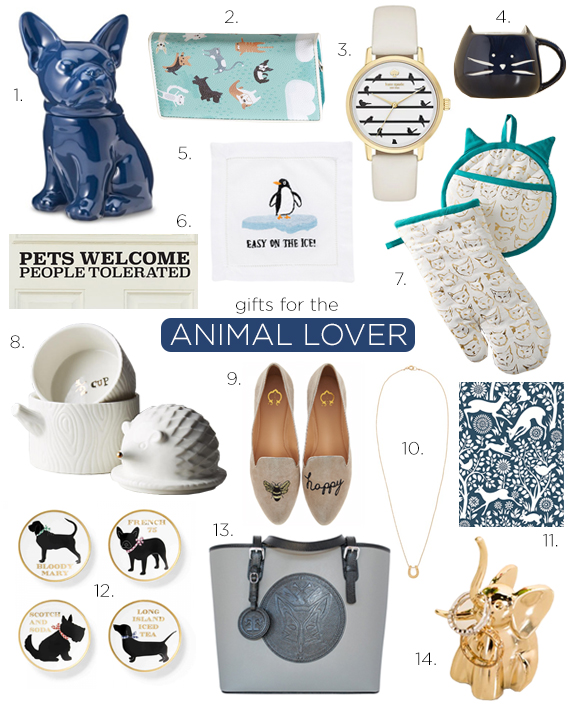 1. French Bulldog Cookie Jar
2. Raining Cats and Dogs Wallet
3. Bird Watch
4. Cat Mug
5. Penguin Cocktail Napkins
6. Pets Welcome Door Quote
7. Cat Print Oven Mitt & Pot Holder
8. Hedgehog Measuring Cups
9. Bee Happy Loafers
10. Horseshoe Necklace
11. Forest Creatures Wallpaper
12. Dog Drink Puns Coasters
13. Fox Carry All Bag
14. Elephant Ring Holder
Gifts For The Homebody
You wouldn't want to leave your house either if you had all these gifts to enjoy.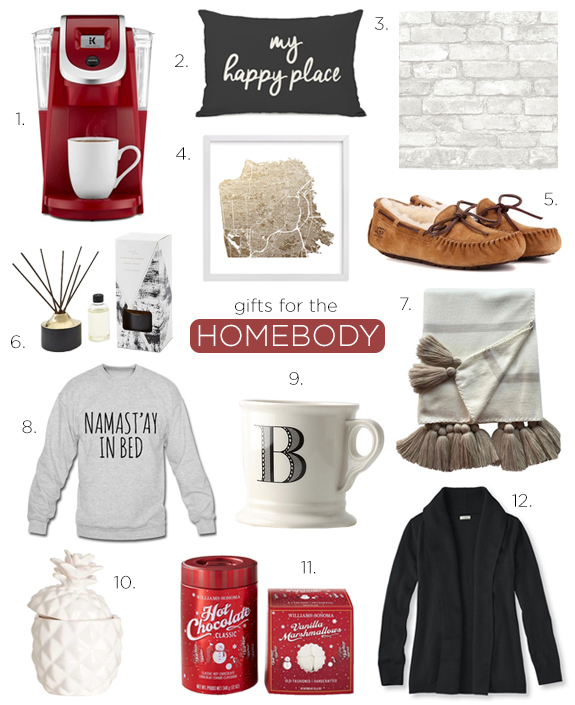 1. Keurig
2. Happy Place Pillow
3. Grey Brick Temporary Wallpaper
4. City Map Print
5. Moccasins
6. Reed Diffuser
7. Tassel Throw Blanket
8. Namast'ay In Bed Sweatshirt
9. Initial Mug
10. Ceramic Pineapple Candle
11. Hot Chocolate & Marshmallows Set
12. Cashmere Cardigan