Looking to bring new life to your home? Rejuvenate your space with 2020's most on-trend spring decor updates:
Your Home is a Sanctuary
Last year, people started to move away from picture-perfect interiors to homes imbued with warmth and personality. The emergence of the grandmillennial at the end of 2019 is an excellent example of this phenomenon.
Creating comfortable spaces that reflect individual style is a top priority in 2020. Mix and match decor and pull inspiration across decades and design movements! The goal is to create a lived-in yet polished look that's a reflection of who you are.
Add Warmth with Color
This season, expect to see a warmer and brighter array of colors. Dull and often sterile-feeling neutrals are on their way out as people seek to create more welcoming interiors.
For those who do gravitate towards a neutral palette, rich earth tones are on the rise: think camel and caramel leather, toffee browns, warm wood tones and shades of terracotta. Dusty greens are also trending this season and are perfect for neutral lovers looking to dip their toe into stronger color.
Bright and bold more your style? Stunning jewel tones are also taking center stage this season. Rich wine hues, warm yellow ochres and emerald greens will make a splash across walls and throughout spring decor.
And let's not forget about our Color of the Year! Classic Blue has lived up to the hype, particularly as a finish for kitchen and bathroom cabinetry. Perfect for both traditional and modern spaces, blue cabinetry has proven itself as a show-stopping room feature.
Natural, Earthy Materials
No matter your color preferences, natural materials add a layer of both sophistication and hominess – which is why they're at the top of our spring decor must-haves list.
Rattan and wicker furniture continue to grow in popularly, bridging the gap between cozy and contemporary. Cane detailing is also having a moment, both in furniture and as a room accent.
Grasscloth and natural fiber wallpaper offer compelling alternatives for incorporating – or extending –earthy touches throughout your space. Environmentally friendly and chic, these wallpapers come in an array of monochromatic weavings and printed designs – providing an option for every style.
Easily incorporate the look of more traditional materials with wallpaper as well. Hyper-realistic and imbued with texture, wallpaper can mimic the look of wood, brick, and stone installations. And while they may imitate traditional materials, the designs range anywhere from classic to entirely contemporary and eclectic.
Personality-Packed Interiors
The key to creating a welcoming home retreat is to infuse it with your sensibilities. When planning out your spring decor updates, feel empowered to pull from multiple styles and decades for a look that's uniquely yours:
Inspired by the angular geometrics and striking patterns of Art Deco design? Combine bold, graphic design with a color palette of tropical pastels for a look style forecasters have dubbed "neo-Deco".
Curating a blend of modern accents and vintage pieces not only supports the move towards sustainable design, but also creates a personality-packed look with a hint of glamour.
We believe wallpaper never really went out of style, but it's certainly seen a resurgence as of late! Innovations in both design and production techniques have led to a full spectrum of awe-inspiring wall finishes for every taste.
In addition to bold geometric patterns and textured walls, we're seeing a renewed interest in incorporating the wild sophistication of animal print, thanks to a certain hit Netflix show. Whether you looking for a splash of safari or a flamboyant feature wall, the options are endless.
Floral designs are, as always, a spring decor staple; this year we're seeing lots of large-scale, personality-packed designs. Whether you're looking for boho blooms or show-stopping Scandinavian designs, the wide variety of modern floral wallpapers ensures there's a print for every person!
For more insights into interior design trends, follow Brewster Home Fashions on your favorite social media platforms!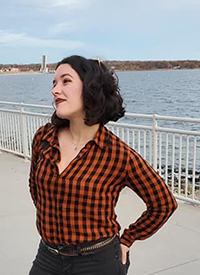 A design enthusiast thrilled to be decorating her first & forever home, Jen covers all things interiors with a special emphasis on strategies for developing beautifully simple and simply beautiful style. When not mentally curating her dream home, she can be found honing her submissions skills in Brazilian Jiu-Jitsu and Krav Maga.