Looking for your next home makeover project? Well, look no further than the tiniest area in your home, the powder room! These spaces are often overlooked because of their size, but they offer an endless amount of potential when it comes to decorating and renovating. Add new life to your powder room by swapping out old and dull wallpaper with something new. Browse through our top 10 favorite wallpaper picks of the season. Pamper yourself by incorporating one of these stylish prints.
1. Soothing Shiplap
Be whisked away to an island getaway with this modern white wood feature wall. This shiplap design has an aged appearance with subtle distressing for a tres chic reclaimed effect.
GET THE LOOK:
2. Baby Blue
A crisp blend of baby blue and white really brightens up this powder room. This invigorating palette is the perfect complement to this overlapping geometric pattern.
GET THE LOOK:
3. Regal Medallion
This ornate medallion design will add both a regal and elegant touch to your space. Its palette of mystical black and silver hues creates a moody and exotic look.
4. Botanical Bliss
This chinoiserie-inspired floral wallpaper is a dream. Both classic and versatile, it straddles a modern and traditional style. Metallic silver hues effortlessly accent yellow and pink flowers, while a grey background emphasizes its chic look.
5. Cozy Farmhouse
The perfect addition to any farmhouse decor scheme, this grey gingham wallpaper has a cozy energy. Its grey and neutral palette is both soothing and versatile. The covering has the look of a woven textile with intricate detailing in every thread.
GET THE LOOK:
6. Tropical Twist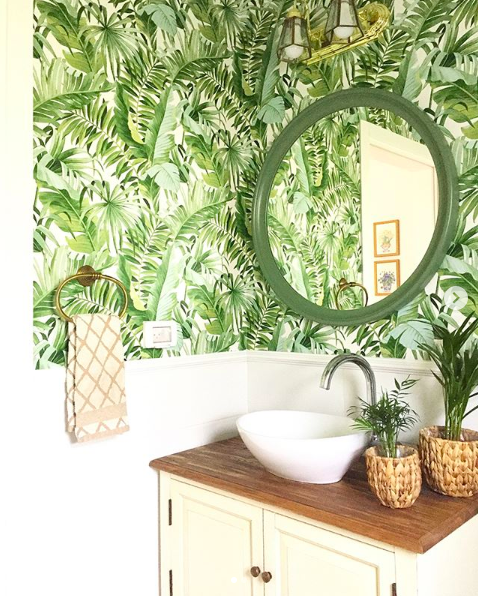 Can you feel that tropical breeze? Be swept away by our Alfresco Green Palm Leaf Wallpaper. This print is perfect for creating a relaxing energy with a bold edge. Its vibrant lime leaves and beige linen inspired background are sure to wow residents and guests alike.
GET THE LOOK:
7. Ombre Blend
This powder room exudes an air of artistic mystery. The brush strokes in a misty blue-grey glide against a white backdrop. Printed on a faux grasscloth texture, the raised ink design gives the wallpaper a hand-crafted feel.
GET THE LOOK:
8. Crisp Geometric
Nothing says classy like a white and black wallpaper design. Add a stylish edge to your walls with this unique grid texture print. This geometric print has an artistic charcoal effect with tiny spots for an organic style.
GET THE LOOK:
9. Artistic Accents
Create a stunning look with a textural effect. This bold print features a black brushstroke design and a crisp white background. Its abstract style is perfect for eclectic, and modern homes alike.
GET THE LOOK:
10. Floral Mix
Spring is almost upon us and to celebrate we'd like to present our Serenity Red Lanterns print. Create an eclectic style in your home with this lantern wallpaper. Red, pink, and taupe blend to create a blissful and serene motif. The large scale print has ten-inch lanterns that are decorated with pretty white cherry blossoms and long-tailed birds.
GET THE LOOK: