When it comes to adding instant wow-factor to your home, look to your utility spaces! Updates made to high traffic areas instantly elevate the feel of your entire home.
Lately, we've seen a big increase in people exploring bathroom and powder room renovations! Here are some of our favorite bathroom renovations for added interior design inspiration:
Now, we'd be remiss if we didn't showcase bathrooms that feature our 2020 Color of the Year! Bathrooms, along with kitchens, have been a favorite place to incorporate a splash of classic blue. Blue cabinetry has been an especially popular option, as it lends itself to both traditional and modern designs.
First up, we have a modern blue powder room with lots of traditional charm. Blue cabinetry and wainscoting grounds the space, while a contemporary black and white floral wallpaper adds brightness and dimension. White accents and brass fixtures finish the space and give it a polished look.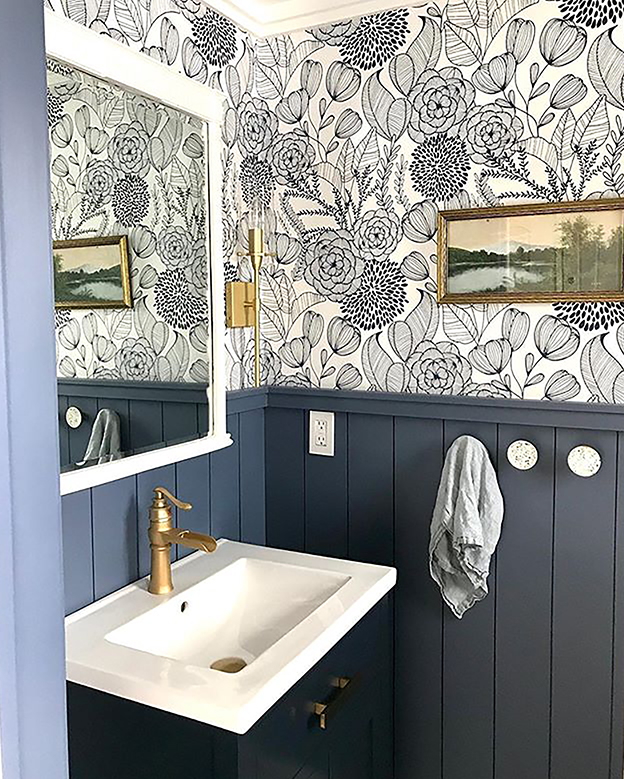 This next bathroom renovation also utilizes blue wainscoting and brass fixtures but has a more traditional feel. This is largely in part to the stunning cloud wallpaper; dotted with windswept birds, it has a nautical vibe that's enhanced by the room's color, glass sconces, and naturally finished wooden door.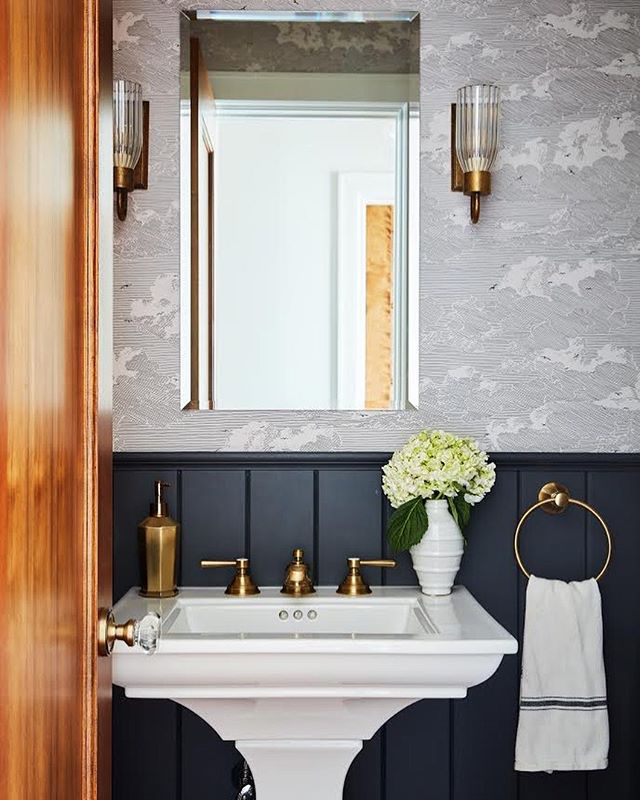 This next bathroom goes all-in on blue, incorporating variety and dimension to make the color shine. The navy feature wall sports a sophisticated and paintable damask wallpaper – which offers both style and the ready flexibility to update down the line! This dark hue is balanced by a bright teal on the mirrors, double vanity cabinetry, and floral window shade. The airy and welcoming feel is completed by modern glass sconces, white accents, and brass fixtures.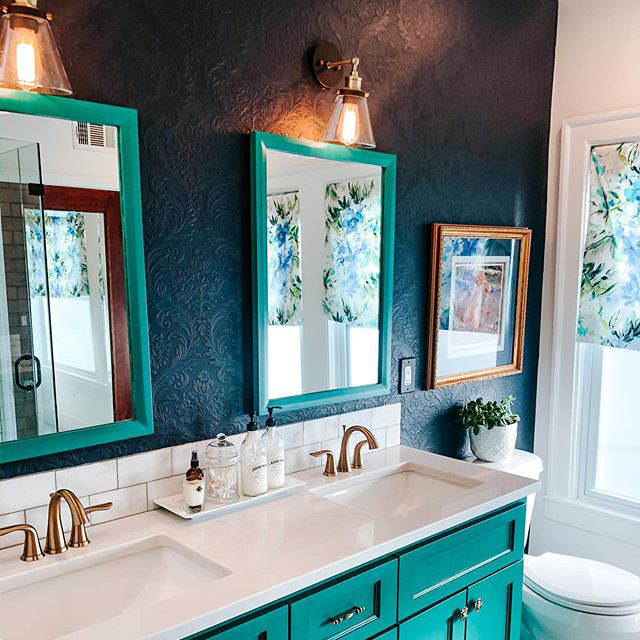 While not classic blue, we love the bright blue cabinetry of this modern bathroom design! A delicate black and white starburst wallpaper creates a dimensional backdrop for the rich pigment; it also perfectly ties together the contemporary sconces, brass fixtures, marble counter top, and grey tile flooring that rounds out the space.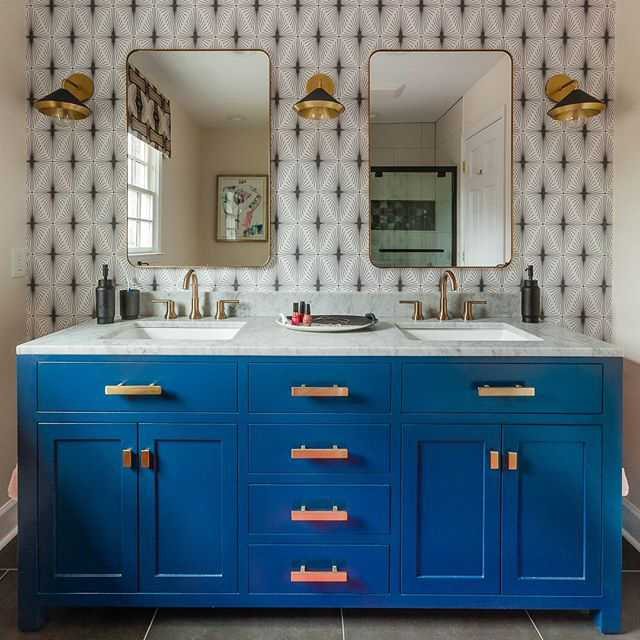 Next up is a powder room that's undeniably elegant. The simple space is wrapped in a charming grey tree toile wallpaper that's rich with etched detailing. This soft sophistication is elevated by a truly stunning (and DIY) black and white marble vanity and embellished antique brass mirror.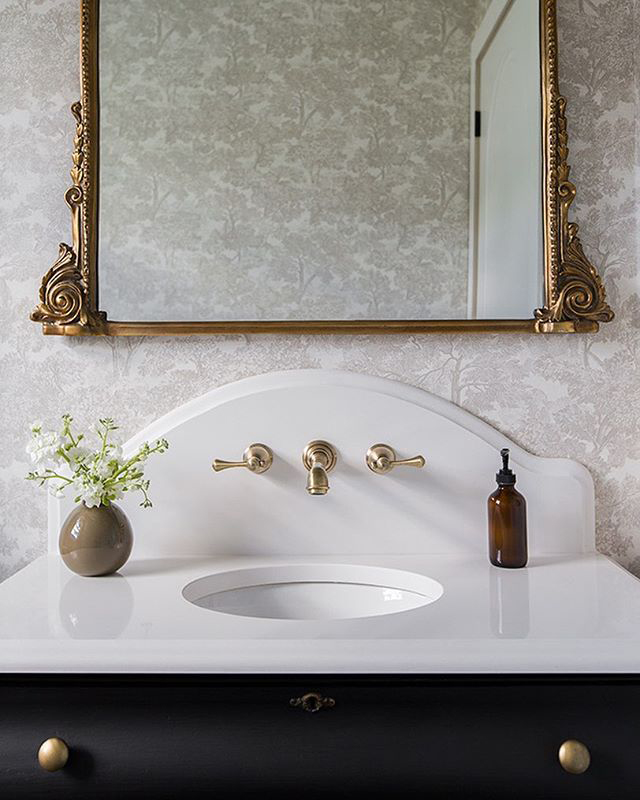 For even simpler elegance, check out this bathroom bedecked in beige grasscloth. The texture and subtle variation of neutral tones lends brightness and dimension to the space. The soft blue-grey of the cabinetry adds variety to the soft hues, while matte black fixtures add contrast to help define the space.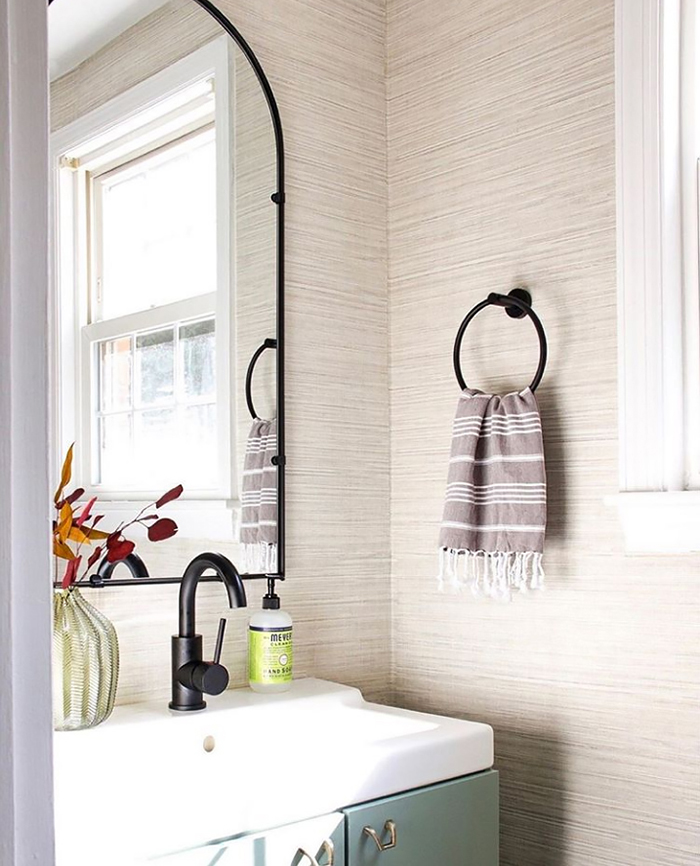 Texture plays a big role in this next traditionally inspired bathroom renovation as well. The wallpaper's wide cream and thin black stripes are enhanced with fabric-like detailing. This textural detail adds needed depth to room's elegant black and white design.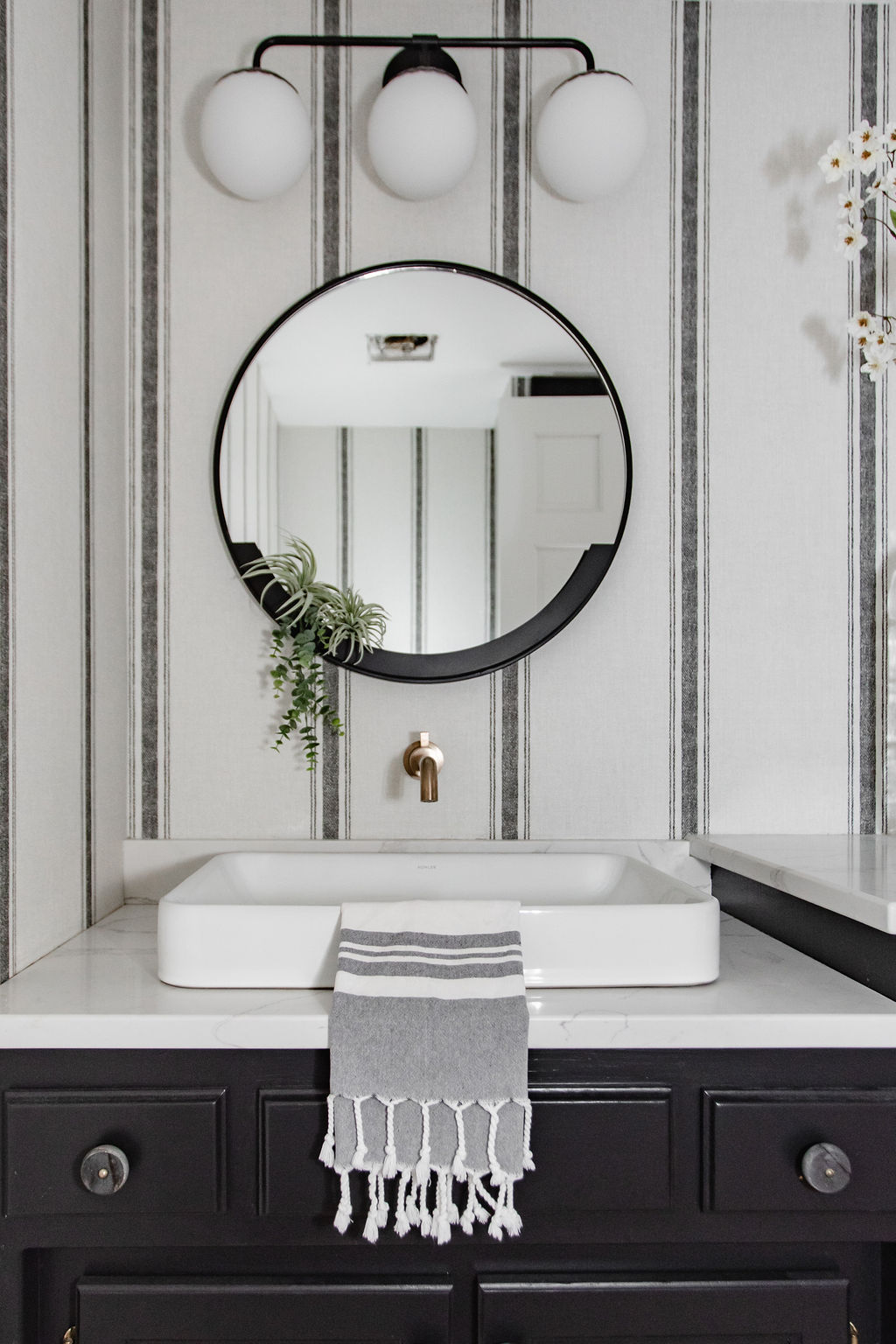 Small spaces are a great place for bold design! This powder room goes all-in with a whimsical Japanese crane wallpaper. The grey background is slightly marbled, adding an extra sense of movement to the soaring cranes. A clean white vanity, angular mirror, and blend of gold and nickel fixtures round out the room's sophisticated design.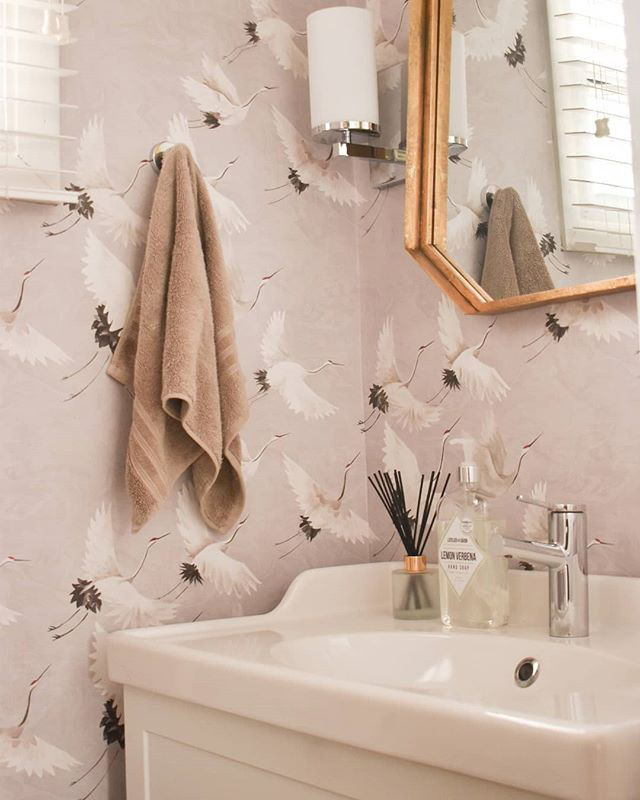 This next bathroom renovation features the fan favorite La Maison wall mural. A popular choice for nurseries and bedrooms, this is the first we've seen it used in a bathroom – and we love it! The soft, vintage-inspired pink florals contrast beautifully with the bold, black and white geometrics of the tiling. The white shiplap, the black-flecked beige granite counter tops, and black accents bridge the gap between the styles for a dynamic, cohesive look.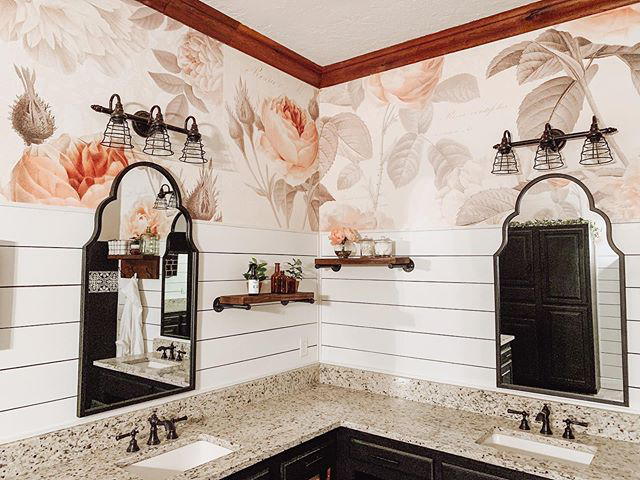 Last but certainly not least is this serene, spa-like retreat. This expansive bathroom is made larger still with its all-white décor accented with hints of black. The grid-line wallpaper keeps your eye moving around the space to appreciate the beautiful soaking tub, expansive double vanity, and botanical accents.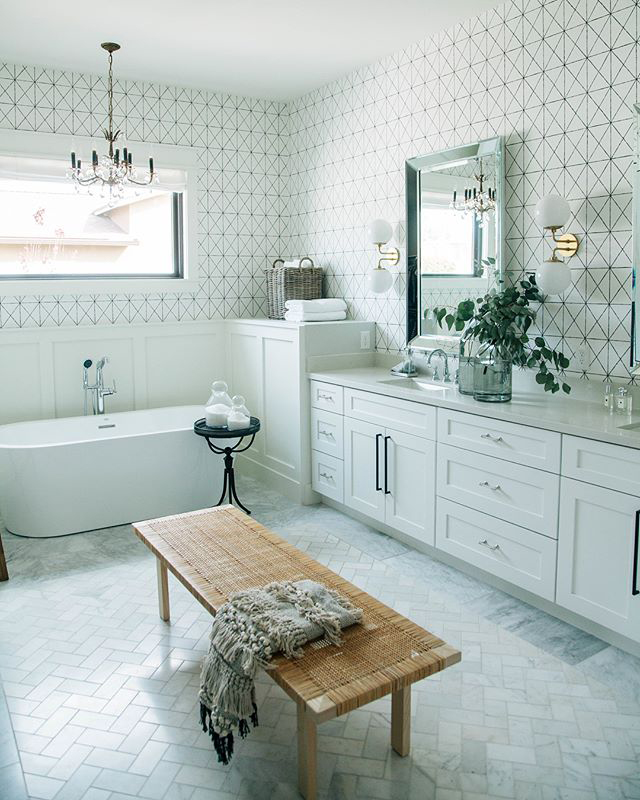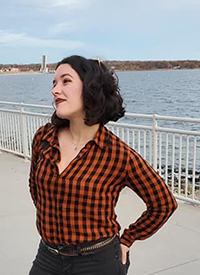 A design enthusiast thrilled to be decorating her first & forever home, Jen covers all things interiors with a special emphasis on strategies for developing beautifully simple and simply beautiful style. When not mentally curating her dream home, she can be found honing her submissions skills in Brazilian Jiu-Jitsu and Krav Maga.