Anticipating the announcement of the color of the year always has designers and influencers on edge, but this years announcement reigns special as we welcome the new decade upon us. Pantone announced Classic Blue as 2020's color of the year.
Blue hues foster an essence of tranquility, nature, and depth that brings home decor and fashion a calm but confident approach. The notable quality of Classic Blue is its versatility to be combined with an array of colors, whether pastel or bold, this shade will bring designs a poised look.
Classic Blue is a shade that is a staple in every color palette for its rich tone aiding in concentration and clarity. Often when we think of blues our thoughts go to water and Earth where most people find relaxation. Classic Blue invites you to do that and so much more with its deep colorway. Elegant in its simplicity, here is how you can embody this polished color into every aspect of your home decor aesthetic in 2020.
Stunner Surfaces
Whether you air more on the minimalist or maximalist side, furniture (large or small) is a key component in incorporating color into your home decor.
Depending on the upholstery, furniture has the power to be either a soft or vivid statement in rooms. This rich velvet sofa is the perfect example of Classic Blue in its bold nature. 2020's color of the year poses a versatility like no other. Classic Blue is a combination of a navy, royal blue, and denim that is easily paired well with neutrals, metallics, and even bold colors such as orange and mustard. The style of this living room is the perfect balance of bold bohemian meets vintage eclectic.
Another fantastic way to infuse color into your space is with rugs. Elevate the look of any space in your home by adding an area rug with a pop of color. This blue and white geometric rug on Jane's outdoor porch has a dynamic look that transcends us to a peaceful oasis.
Wallpapers
Wallpaper provides patterns and visual intrigue to your walls going beyond what a coat of paint would. Like the options below, each design has a rich hue and intricate print that will not only add depth to walls but a fashionable spark.
Helios, designed by A-Street Prints is a stunning wallpaper choice that features this rich blue hue with a flocked print. Its timeless and fresh look is the perfect way to infuse Classic Blue into your home.
Bold and punchy, the Banyan Tree Wallpaper designed by Kenneth James has a luxurious style. The deep jewel tone of the backdrop accentuates the floral buds, and gold pearlescent trunks.
The Oasis Blue Linen on the other hand, is an excellent option if you're looking to achieve a more soft and serene look in your space. Its chic and versatile hue has an overall modern style that will effortlessly complement a variety of homes.
Home Accents
Other subtle ways to incorporate this stunning hue into your decor is through small home accents. From blankets, to curtains, to peel and stick kitchen decals, to candles – no accent goes unnoticed! Here we have a beautiful scene featuring a nature inspired window film, and blue vases upon a sill.
Incorporating Classic Blue into your home decor doesn't have to be as grand as using furniture or rugs, you could simply use these stunning agate coasters in your kitchen, living room, or even as centerpieces. With the gold trim, these crystal inspired pieces are the finishing touch in creating an elegant space.
"A timeless and enduring blue hue, PANTONE 19-4052 Classic Blue is elegant in its simplicity." – Pantone
Take a Seat, Unwind.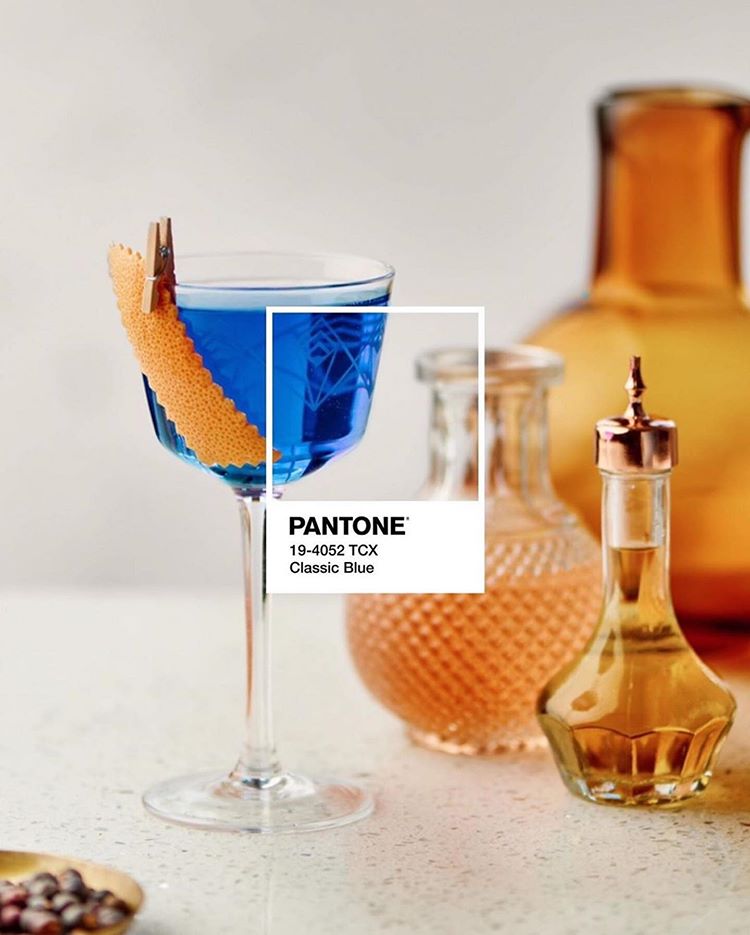 From your table setting, to the actual chair, do not neglect decorating where you eat! Typically when having guests over, you gather around food and drinks so be sure to incorporate Classic Blue into your dishware, napkins, or even beverages!
In the recent announcement of the color of the year, Pantone launched a new sensory twist partnering with several other companies to develop a sound, taste, and smell for Classic Blue. So be sure to incorporate each of the senses into your decor to completely engulf the tranquility of Classic Blue.
See more inspiration on how to infuse Classic Blue into your home with our Pinterest board.
Whether you decide to add in Classic Blue in a subtle or extravagant way, we are eager to see how you experiment with this intriguing shade. Embody the confidence it exudes, and leave a comment down below with your thoughts on the color of the year!