2021 is the year to discover your own individual interior design style. It's the year to play with pattern and bring bright, inviting color to your home!
Taking the leap out of your design comfort zone, however, can be equal parts exciting and intimidating. Which is why we asked some of our favorite designers about their experiences curating bold style in their homes:
Amber Shirley: Master of Bold Style
If you're like us and love looking at all the beautiful homes on Instagram, there's a good chance you've come across Amber already. Her page @preppybohemianathome is a treasure-trove of eclectic, bohemian joy, and her bold interiors burst off the screen. There's no better place to look for bold style inspiration and advice than from Amber:
Her page is a great source of bold style inspiration, and she's kindly shared some insights with us on building bold style:
Q: First of all Amber, your home is GORGEOUS! How would you describe your style?
My style is very eclectic! I'm drawn to the whimsical feeling bohemian style brings to a space, but I ground everything by adding a healthy mix of modern-traditional pieces. I love lots of color, pattern, plants and thrifted finds.
Q: Has your style evolved or changed over time?
Yes! I can't even tell you how many times I've looked through old photos and thought, "What in the world was I thinking?!?!" But honestly, I wouldn't change a thing. Trial and error – that's sometimes the best way to find your personal design style. I have always leaned towards bohemian but now it's a much more refined version.
Q: You are an expert at layering color, pattern & texture; any advice for people looking to bring more color and pattern to their space?
When putting a room together, I always try to start with one bold pattern I love and then build from there. If the main pattern is large in scale – which I prefer – then the next pattern I add is smaller scale and in a similar color scheme. I have a thing for animal print and I use it as a neutral. As long as you incorporate plenty of solids and keep everything within a similar color scheme, everything ends up balancing out!
As far as texture goes, my philosophy is the more the merrier! I add lots of shaggy pillows and am currently obsessed with anything velvet.
Experimenting and Going Outside your Style Comfort Zone
DIY-aficionados or aspiring DIY-ers may also be familiar with Grace and Michael van Meurer of @collected_eclectic. The duo has taken on some pretty big projects around their home, transforming it into a charming space they both love. We had the chance to chat with Grace about the evolution of their joint style:
Q: You and your husband Michael have made a beautiful home for yourselves. What are your goals for creating a space you both love? Are there differences in your style preferences, and if so, how have you negotiated making compromises?
Our primary goal overall has been to make this house feel like us. Our secondary goal has been to make little improvements that make our day-to-day life easier and more enjoyable.
We have slightly different styles but can pretty quickly come to an agreement on things. We've come to realize that if we don't both love something, it's not the right thing and we have to keep looking for solutions.
Q: Your style seems to lean more towards clean, bold lines and neutral colors – but you recently dipped your toe into bolder design with our sister brand, A-Street Prints! What drew you in to taking the plunge?
That was all Michael! Michael loves bold patterns and colors, while I lean towards a very simple and minimal aesthetic. I think this makes us a good team, because we're both open to trying new things and humoring each others design whims.
Q: Now, the million-dollar question: has this experience converted you? Or at least, do you see yourself playing with color and pattern more in the future?
I don't think I'll go as bold in the near future, but the pattern and color play is never going to stop! I'm still getting the hang of mixing colors and patterns, and I have a lot of experimenting ahead of me before I truly figure out the perfect usage for my style.
Q: Do you have any advice for someone like you, who's thinking of trying a style that's out of their typical comfort zone?
Do it! You can always change it if you don't like it, and you'll learn from the experience!
Insights from a Professional
Interior designers understand what it takes to build bold style not only that meets their own expectations, but also the high expectations of their clients. Sara Johnson's perspectives on creating beautiful interiors will help you curate bold style for your own home:
Q: First off, tell us a little bit about yourself and your experience as an interior designer!
Interior design has been in my blood since I was a child. I was always "rearranging" my bedroom to experience it in a different light, and over the years I helped friends and family with design decisions. I spent my childhood summers with my grandparents in Stonington, CT. My grandmother shaped my design aesthetic, and I fell in love with New England design.
After getting my master's degree in marketing, my husband and I purchased some real estate in Dallas, TX. I gutted, redesigned and sold each property. Thus, I began a career in real estate that eventually led to launching my own interior design firm in 2018.
Q: What is your design philosophy when creating the perfect space for a client?
I aim to create a comfortable and memorable space for each of my clients. Every client is different, with their own family heirlooms that tell a story. I always try to incorporate as much personal detail as possible.
Q: What are some of your favorite elements to incorporate for bold style?
Wallpaper is always my first go to! Wallpaper gives me an opportunity to mix patterns and textures. I always tell clients, "It's about layering," and wallpaper as a foundation always accomplishes the layering effect. Bold lamps and/or lampshades also make a big impact for a lot of spaces.
Q: Any predictions on what bold style will look like in 2021?
I think more and more people are getting comfortable with COLOR. No more greys and whites. I am seeing a lot of bold colors and pattern play.
You've heard it from Sarah, and Amber and Grace: this year really is THE year to play with bold color and pattern! So take the time to explore what bold style looks like in your home!
We want to know, what would bold style look like in your home? Share your ideas in the comments below!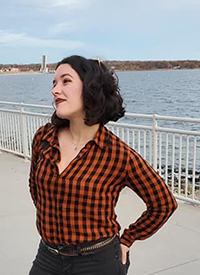 A design enthusiast thrilled to be decorating her first & forever home, Jen covers all things interiors with a special emphasis on strategies for developing beautifully simple and simply beautiful style. When not mentally curating her dream home, she can be found honing her submissions skills in Brazilian Jiu-Jitsu and Krav Maga.