In the past year, personality-packed interiors and bold design has started to supersede the pristine and minimal aesthetic that's dominated for decades. While this shift first began in 2019, a highly unorthodox 2020 accelerated the trend as people found themselves spending more time at home. The catharsis of transforming one's space has been much needed and has resulted in some truly spectacular, bold designs.
We've rounded up our favorite lively looks from this year to inspire your own walk on the wild side:
Vibrant Retro Retreat
At the top of our list is Amber Shirley's absolutely delightful master bedroom transformation. Faced with a blank slate, Amber sought to bring her signature bright and vintage-inspired bohemian flair to the space. And bring it she did!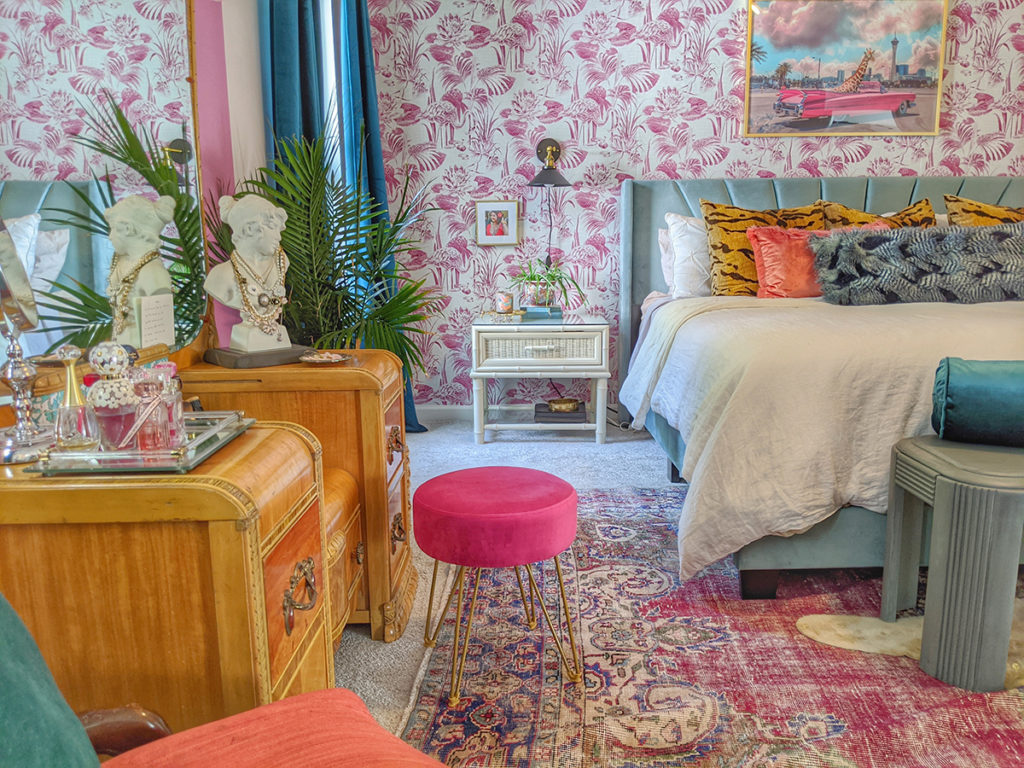 Amber said that she was looking to create a retro-inspired getaway, and we think she nailed it! Bursting with jewel tones, whimsical tropical touches and lush finishes, it looks like a suite straight out of 1950's Hollywood! Blue and magenta work in perfect harmony throughout the room, with various hues and textures bringing depth to the space.
As is only fitting for a bedroom, the bed is the focal point. Its luxurious, aqua velvet-upholstered bedframe is centered along a gorgeous wallpaper backdrop. The magenta design features flamingos strutting between palm fronds and lotus flowers for the perfect blend of playful and chic. Finished with an utterly charming giraffe artwork and a touch of animal print in the throws, it is a gem of a tropical retreat.
Can't get enough of Amber's space? You can admire her bedroom – and the rest of her home – from all angles by visiting her Instagram @preppybohemianathome.
Dark Scandinavian Floral Master
While designer Anita Mackenzie wrapped up her bedroom makeover in late 2019, her space is the perfect example of the dark and dramatic floral design that flourished this year. So it seems only right we include it on our roundup!
Having moved to tropical Singapore, Anita sought to reflect the wild beauty outside in her home's design. The lush greenery offered the perfect opportunity to incorporate wallpaper she's adored for years but never used. The moody Scandinavian floral is a feast for the senses, bursting with rich greenery and a stunning array of flowers of all shapes, sizes, and hues. Used as a feature wall behind her bed, the bold design creates an immediate focal point for the space.
The rest of the bed's styling serves to complement and contrast the vibrant design. She repurposed vintage cabinets from old Delhi as bedside tables, the intricate and colorful details enhancing the wall's bold design. Meanwhile a pair of sleek, modern white table lamps provide the right amount of visual relief to balance the space.
Modern, Whimsical Black Bathroom
Interior designer Claire Jefford also took the dark and bold design route, but she took a slightly more playful approach. With a bathroom virtually untouched since the 1960's, she transformed the space into a sleek and modern oasis that retains its charm thanks to the whimsical wallpaper.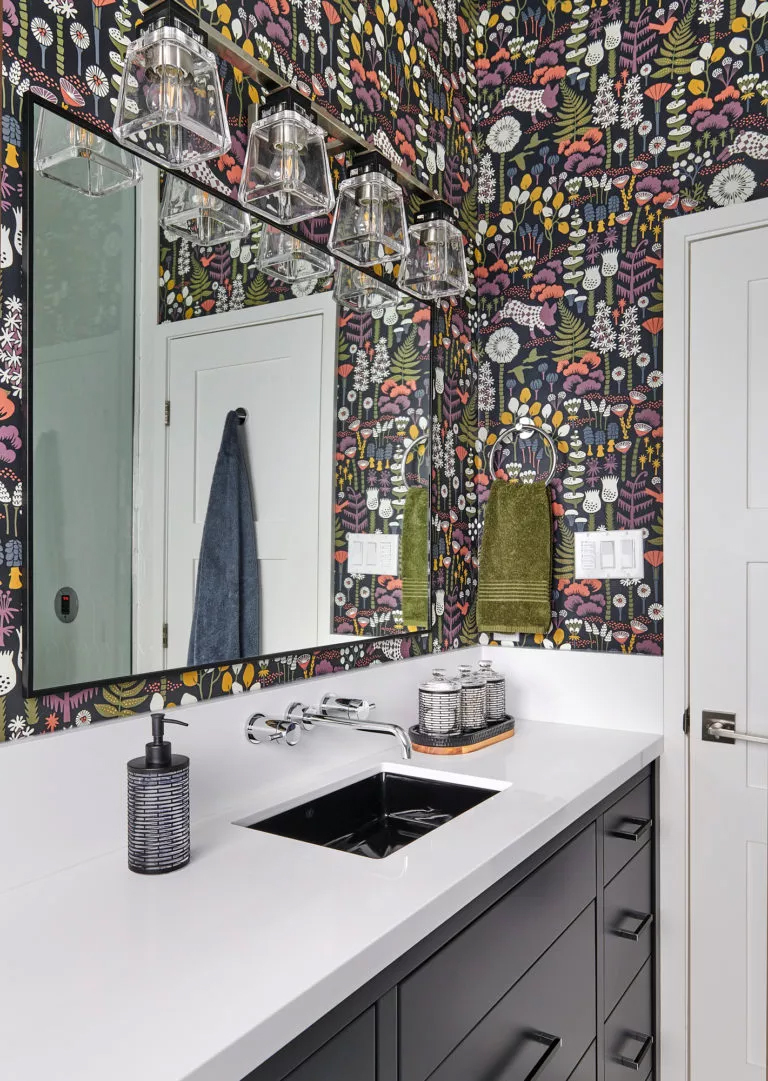 Claire's bathroom suffered both aesthetically and functionally thanks to its dated design and small footprint. To remedy this, the renovation largely focused on restructuring and resurfacing utility pieces to expand upon and better utilize available space. The sleek black cabinetry is all custom-fitted to accommodate awkwardly-placed but crucial plumbing while also increasing storage space and opening up both floor and counterspace.
A refitted white shower and stunning stone countertops provide simple yet sophisticated contrast to the black cabinets, but not much personality. To tie the design together while bringing color to the space, Claire chose this fantastic woodland wallpaper. The illustrative plants and animals inked in rich jewel-tones pop against the black backdrop, which adds an organic, care-free vibe that Claire loves!
To see more of the before and after, check out Claire's blog post detailing the transformation!
While dark hues and jewel tones bring instant drama to a space, bold design can be achieved with a softer palette as well! Case and point: this delightfully whimsical yet classic girls' room by interior designer Sara Johnson: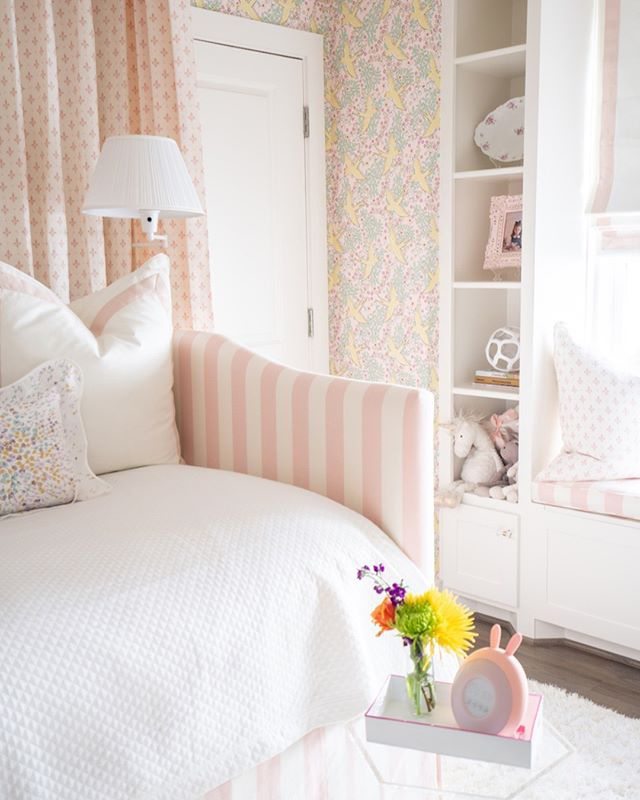 Decorated entirely with pastel hues with pink predominant, this room is a feast for the senses! Rich pattern layering gives this space depth and sophistication. Yet despite its chic and grown-up design, it never loses the playfulness a kid's room deserves. This is largely thanks to the fanciful swallow wallpaper that wraps around the entire room and youthful accessories throughout.
Simple & Luxurious Tropical Design
Last but certainly not least is an upscale take on a popular theme. Tropical palm leaves have long been a favorite design motif, and likely will be for years to come! The lush foliage offers plenty opportunities to dress up or down, depending on your taste.
For Lydia of @lydias_layton_life, this meant elevating the natural extravagance with luxurious touches. To start, her tropical palm feature wall has a cobalt blue backdrop that provides rich depth. Its jewel-like green hues are echoed in the bedding, furniture, and artwork throughout the room. Each emerald piece sports a lavish finish, whether textured velvets, brushes of metallic gold, or natural greenery.
Perfectly balanced by neutral and natural details, the lush finishes are incredibly impactful. The lavish green fabrics are mixed with light, textural greys, while natural wood pieces complement the more opulent materials.
For more bold design inspiration, follow Brewster Home Fashions on Instagram and Pinterest.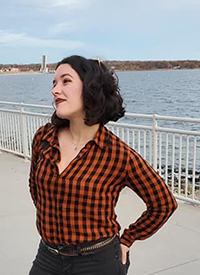 A design enthusiast thrilled to be decorating her first & forever home, Jen covers all things interiors with a special emphasis on strategies for developing beautifully simple and simply beautiful style. When not mentally curating her dream home, she can be found honing her submissions skills in Brazilian Jiu-Jitsu and Krav Maga.