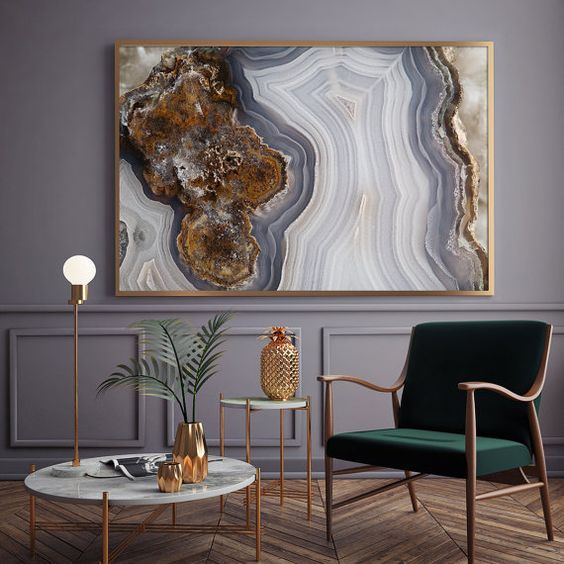 "Self-Care" has been one of the top buzzwords in 2019. From spa nights to diet amendments, treating yourself kindly is a new wave that has recently impacted interior design trends. Crystal decor has become a popular item for the season, and we're seeing it incorporated into everything from wallpaper to side tables. A tool for meditation is now hitting the home interior market and we are here to share with you the top nine ways you can integrate this trend into your home.
1. Crystal Murals
Wall murals are an easy way to transform a lifeless space. Create your own tranquil cove with this Amethyst Wall Mural. It features layers of cream, soft pink, and blue that beautifully meld together. The assortment of shades inside the rippling layers of the stone are mesmerizing and exude a calming energy.
2. Side Tables
Bring cool to the summer with this icy crystal side table. Gold and navy are a fun color contrast and the shimmer from the crystal adds a touch of glam. This decor item is a must-have statement piece for the season.
3. Textured Wallpaper
Indulge yourself with this glitter textured wallpaper. This design perfectly captures the shimmer of crystals with the holographic foil print. The flecks of silver accent this earthy grey backdrop. Your home will be glistening from head to toe with this wallcovering.
4. Door Knobs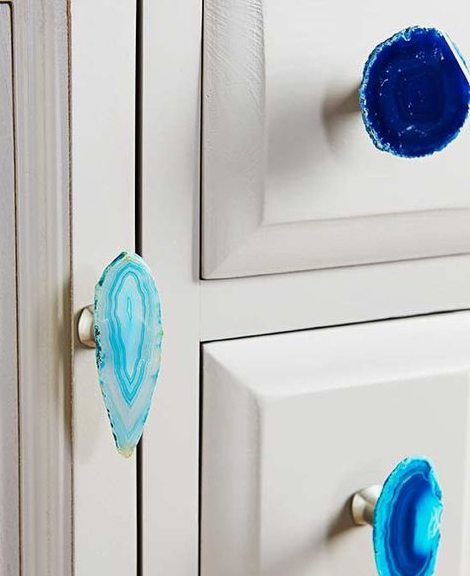 Enter into your space in style with these small decor pieces. Available in a variety of different colors and shades, these door knobs can add an eclectic and fun element to the home. It is a small yet creative way to incorporate the crystal trend.
5. Lamps
A bold decor item for the everyday maximalist, this crystal-accented lamp can brighten up any space. The chunky crystal and gold base are a chic duo. This will work as the perfect addition to your coffee table or nightstand. A piece as unique as this you need to get your hands on!
6. Sparkle Wall Covering
Add a touch of glam to your home with this beaded wallpaper. The tiny glass beads shimmer like crystals and give off a stunning glow when they catch the light. The beads alternate from light to dense, creating a beautiful gradient effect. This champagne hue is simply enchanting.
7. Crystallized Artwork
Crystal is king! This gorgeous piece exudes a regal feel. Layers of copper, violet, and lavender adorn this crystal masterpiece. Incorporate a piece like this into any space and leave your guests struck by the crystal's wonder and beauty.
8. Agate Wallpaper
Light and airy, this agate wallpaper exudes an essence of sophistication and charm. The gold, teal, and navy hues blend together effortlessly to create the perfect summer beach look. These blue shades pop against the white toned decor.
9. Coffee Table Decor
Crystals and coffee? Yes please! Self care comes to a head with this dynamic duo. Top off your coffee tables with these decorative trinkets. Whether big or small, these crystal accents will create a statement and are sure to uplift the energy in the room.