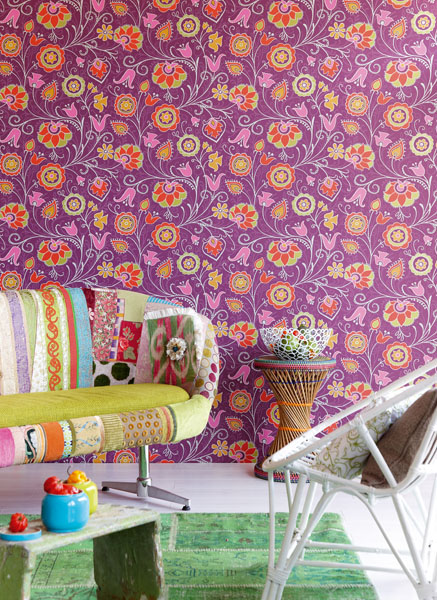 Each year Pantone, the color connoisseurs, give us gorgeous style advice, guided by the "it" colors of the season. And each year only one color gets to be THE COLOR OF THE YEAR. This year, the leading lady is an imaginative and bright, captivating purple: Radiant Orchid. The 2014 Pantone Color of the Year is an intoxicating mixture of fuchsia, purple and pink hues. An unusual shade, Radiant Orchid brings serenity when incorporated throughout the home, and gives interiors an updated look.  Inspired by designs around the world, radiant orchid is complemented by a wide array of accents and undertones, making it a pleasure to execute in your own home.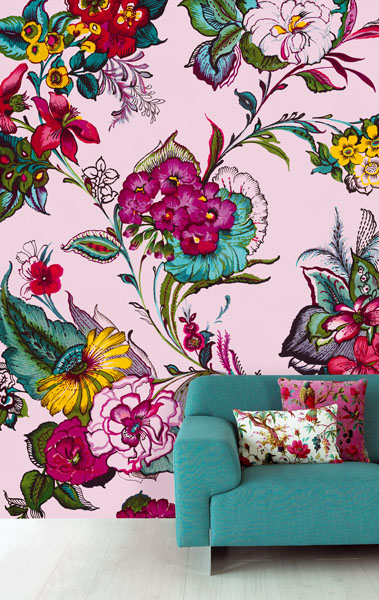 "Radiant Orchid is a totally different direction from last year's Pantone Color of the Year, Emerald," says Paula Berberian, a Creative Director of Brewster Home Fashions for WallPops.  "The softer shade makes quite a statement when paired with neutrals like taupe and cream, and is even more striking alongside brighter hues like turquoise and yellow." Here are some tips on how to incorporate this dazzling hue into your decor.
Create a Feature Wall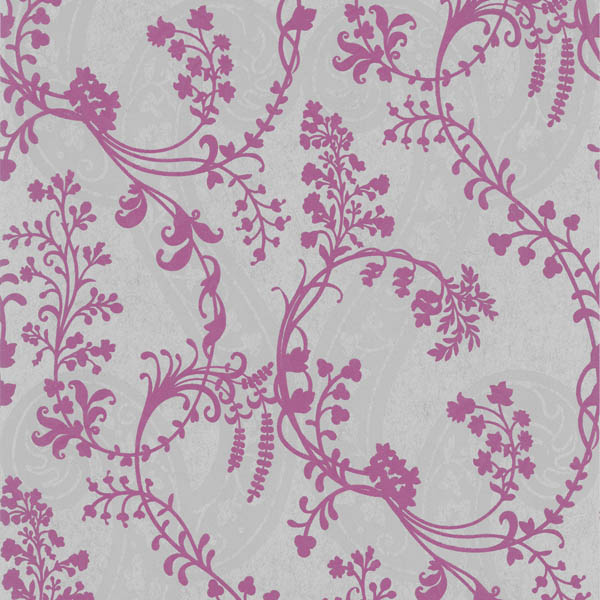 It's often intimidating to introduce a new color into your home, so starting on a smaller scale makes it easier to take the plunge. Instead of dressing an entire room in Radiant Orchid, focus on just one area to test out the shade. Choose which wall serves best as the center of attention, often the dining room provides an ideal arena. Pictured above, the Pandora Purple Botanical Vines wallpaper by Kenneth James from Brewster Home Fashions creates an enchanted accent.  After adding the ravishing wallpaper, which features swirling orchid vines, keep the rest of the design minimal so your Radiant Orchid accent wall will become the highlight of the room.
Add Accessories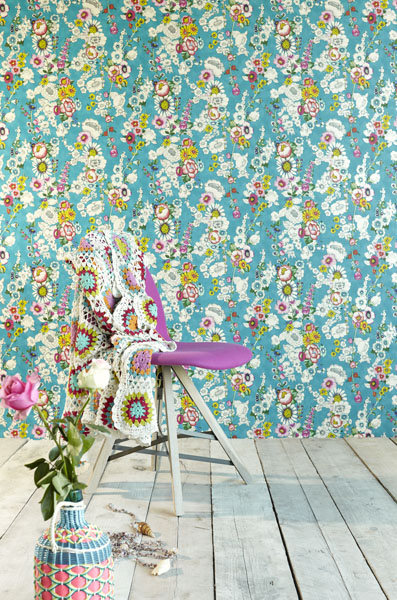 Accessories like throws, pillows and rugs can quickly turn any space into a coordinated design. Subdued colors such as grey, cream and taupe work well in the bedroom, but can often come up short when you are trying to create a bold design. Incorporate soft blankets, small pieces of furniture like the chair above, and textured decorative pillows in Radiant Orchid for a touch of sophistication and style.
Focus on Florals
The 2014 color of the year is a vivid tribute to one of the most coveted types of orchid blossoms. One of the best ways to integrate lush radiant orchid into your home is with a real plant!  With tropical leaves and exotic blooms, you simply cannot go wrong with a fresh orchid plant in any room. You can also fill vases with cut flowers to infuse a luxurious and invigorating pop of purple into and space.