Inspiring and Posh Kids Decor Ideas
These kids rooms are over-the-top-awesome! From pirate rooms with actual ships to reading nooks guaranteed to encourage more reading and indoor tree houses, these kids bedrooms are downright dreamy! We love decorating for kids because you can have so much fun with colors and themes. These imaginative rooms definitely went the extra mile.
1. A robot motif reading nook: Not only does this bright and chic boys room have the perfect built-in bunk beds, it also has a separate little room, just for reading – and the whole space is printed with rad retro robots. We adore everything about this novel room.
2. Pirate theme room with a built in boat and bridge: need we say more? This pirate room takes the theme to the next level with a boat hide-out accessed by a ladder and bridge. The walls and ceiling create an ocean adventure with a one of a kind mural.
3. The ultimate pink girls room with a sleeping alcove. This dreamy pink room is so posh and pretty. We love the toile fabric and luxurious details, not to mention the regal bed. It is truly fit for a princess.
4. This enchanted bedroom is straight out of a fairy tale! The custom round bed is built into a giant tree trunk and the walls have been built out with charming secret doors! We can imagine that this space inspires fantastic games of imagination and magic!
5. A carnival circus theme kids room complete with an actual ferris wheel. We are dying to know if the ferris wheel actually works! Either way, this colorful and cute boys room decor takes the cake for creativity, as well as featuring a stylish mix of pattern and color.
6. An actual castle bunk bed. This bunk bed features a ladder inside the castle turret and a gorgeous wall mural to create the illusion that you are indeed royalty. Talk about sleeping in style!
7. A tree house theme room, inside your house. Every kid wants a treehouse right? This kid has one in their room! The tree itself is an incredible work or art, filling the wall and ceiling with beautiful branches and a ladder leads up into a secret hideaway!
8. A room fit for a superstar! This great girls room sets the stage for pop star performances, poetry readings, dance recitals and dress up fashion shows. With a built-in stage area and a rolling wardrobe of clothes, this would be a very fun room to grow up in!
9.A colorful boho-chic kids room with a teepee. This happy space has a chic mix of colors and prints, almost like an eclectic Anthropologie-esque space for your little one. We love the hanging feathers, lantern for late night reading illumination and soothing palette of blues and greens.
10. Extreme Home Makeover sports theme room. No list of top awesome kids rooms would be complete without a nod to Extreme Home Makeover! This room takes a sports theme to epic heights with an incredible collection of memorabilia and basketball hoops all around the walls.
11. Under the sea theme mermaid room: We are mesmerized by this room, especially the bed! Designed to look like an oyster shell and complete with a precious pearl pillow, the bed is truly the piece-de-resistance in this room. However, the whole space is a masterpiece that Ariel herself would be pleased to call home.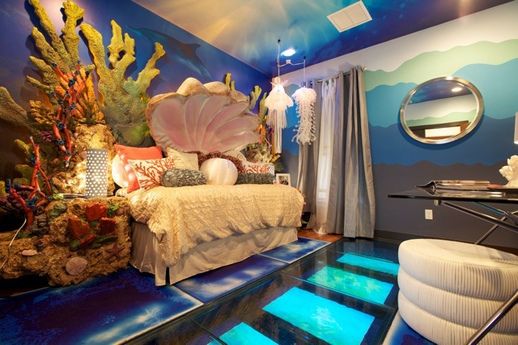 12. A rainforest adventure room with a built in bridge and treehouse fort. This room is wild! The beautiful mural features a tropical scene, leading up into the treetop canopy of the rainforest! A ladder leads up to an awesome tree house, complete with two 3-D trees. We would love to hang out in this room!