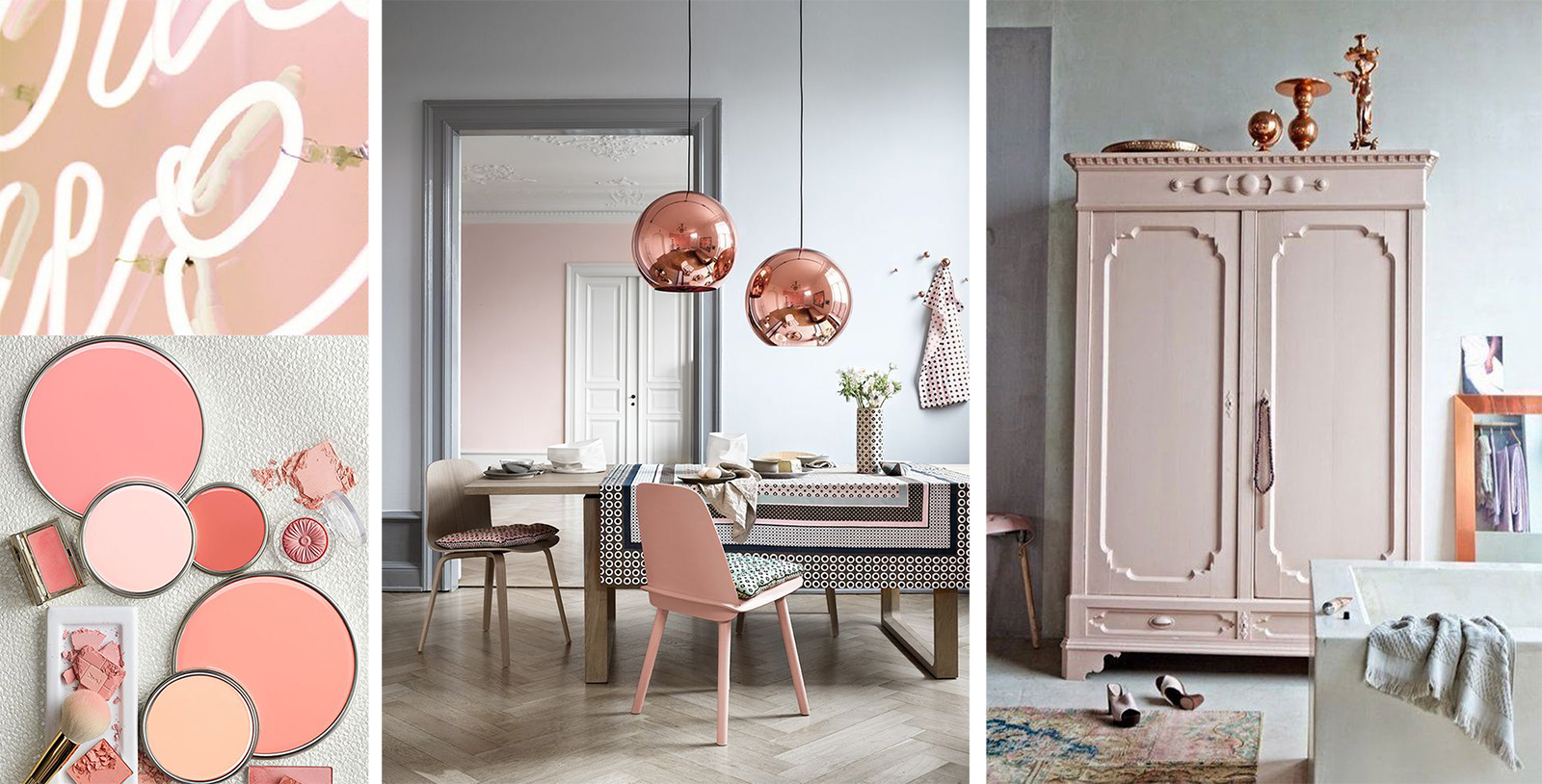 Keep Your Home Fresh & Fabulous This Year!
New year, new set of trends! Every year we get extremely excited to see what decor trends may have stuck around and which ones are completely fresh and new. In 2015 we saw a ton of blue, bold and modern geometrics, decor with an industrial chic edge and of course glistening metallics. So what's in store for the coming year? We thought you would never ask! Come and explore with us the top trends we are just head over heels for in 2016. From blush pinks to beautiful embellishments, we're pretty sure we won't want 2016 to ever end.
1. Think PINK!
Who doesn't love pink? Ok so maybe not everyone, but the pink that is making it to the top charts this year is a beautiful soft pink that is effortlessly charming. From pastel pink walls to just a pop of pink, this sweet hue is not one to be missed.
2. Bold Botanicals
Nature has always been a focus in decor but in 2016 it takes a bigger and bolder look. Larger than life florals, birds, trees and leaves help your home keep that eco-chic vibe while also playing with texture and size. Textiles to walls, this trend can be seen from top to bottom and everywhere in between.
3. Yes, Wallpaper!
We saw wallpaper take a huge leap last year and it is still going strong! This year we see natural surfaces take flight such as faux woods, brick and stone as well as retro style geometrics, metallics and wallpaper done in more soft and subtle hues. Also trending for the new year, wallpaper in the kitchen!
4. Deep Blues
The color blue might have been the star of 2015 but we are still continuing to watch it gain momentum. In 2016 expect to see a lot more indigo as well as pairings of blue and white. Coating textiles such as curtains, rugs and pillows to dinnerware and furniture, this fabulous trend is especially easy to incorporate into your own home.
5. Reclaimed & Repurposed
We've been seeing the appreciation for vintage materials and goods gradually increase throughout the years and 2016 is no different. From tiles that look to have been aged over time to wood planks chipped with paint, these imperfect textures and finishes are bigger than ever.
6. Glistening Gold
The color gold can truly transform a room. That's why we weren't surprised to see it among the top home decor trends once again. Coupled with other warm metallics such as copper and nickel, these glistening hues are definitely sticking around.
7. Welcoming Words
We're no longer just seeing sweet sentiments such as love and home sweet home on doormats or signs that welcome you inside but we are seeing them all throughout the home. From words on the wall to bedspreads and pillows that speak happiness, 2016 is the year where our hopes, dreams, thoughts and more adorn all of our decor. 
8. Chinoiserie Chic
Also making a splash in 2016, beautiful chinoiserie prints! With an Asian influence, these cultured designs feature graceful florals, harmonious toiles and elegant nature scenes that add an exotic touch to walls and textiles alike.
9. Fine Embellishments
Last but not least we love all the embellished finishes that are adorning linens, wall coverings, cushions, throws and more. Beautiful beading, luxe flock detailing and fabulous fringe are a few of our favorites.
Which is your favorite decor trend for 2016? Share with us on Facebook or tag us on Instagram @brewsterhome!