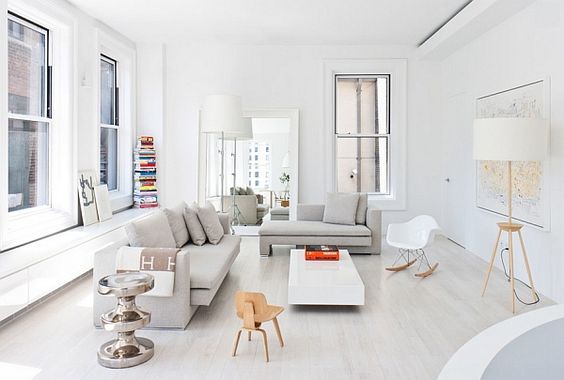 Minimalist Decorating at its Best
We've always been on the minimalist bandwagon and now with its new popularity, we are truly ready to leave all that clutter behind and instead opt for a much cleaner and simpler space. You may have seen the minimal look done well in the past, but with its new surge, chic spaces are popping up everywhere proving that for many, less is actually WAY more.
The catch is, that when you think of minimalism you may think that by simply reducing the clutter, your space will be instantly transformed. However, as much as we wish this was true, unfortunately it is not. But don't be discouraged! With just a few considerations as well as some tips and tricks, your room will resemble minimal perfection, offering you a fresh start to seize anything that may come your way.
Natural Light: The key to a minimalist space definitely starts with natural light. The more you open up your space and remove barriers such as dark curtains or blinds, you will instantly feel the mood of your room shift. If you still want some privacy, we suggest choosing a soft color curtain or blind that won't stand out and that can easily be pushed up or aside during the day.
Discourage Competition: Creating a harmonious look throughout your space means that you do not want to have any items in competition. This means that you may have to splurge on new furniture to make sure that each piece is balanced. You will easily know if there is something in your room that stands out above the rest if your eye instantly goes there, so if there is, you know you need to make a change.
Balanced Palette: Many would say to steer clear of dark, ominous tones, however that is not always true. We know that for the most part, white, off-white and natural tones will always work but when done correctly a dark grey, blue or green can also remain minimal.
Textures & Details: Last but not least, paying attention to textures and details will be the finishing touch. You don't want a room that is so clean and simple that it seems to just fall flat. That is why incorporating different textures will help you add contrast while still keeping to a minimal aesthetic. Adding in special details that don't stand out but will not go unnoticed is also extremely important. Whether it be an interesting plant, stylish book end or work or art, that we leave up to you!
For more minimalist spaces follow us on Pinterest!