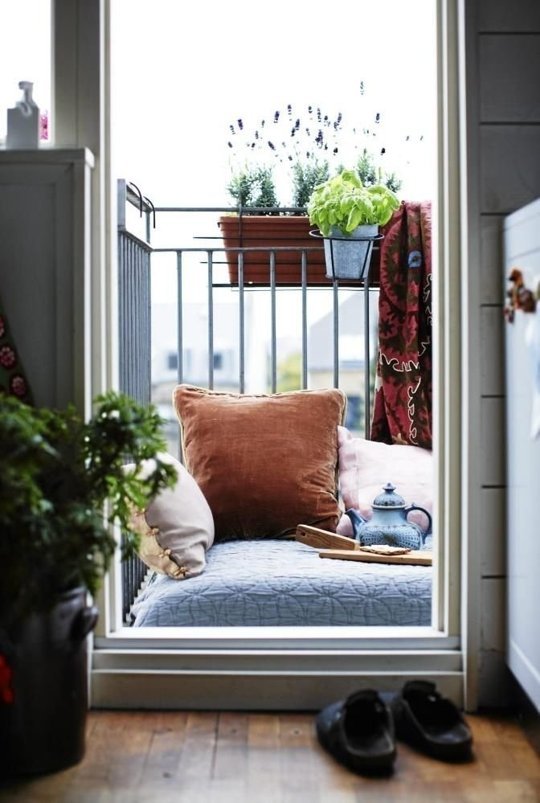 8 Fabulous Design Blogs That Inspire
1. Apartment Therapy
With over 8 million unique monthly visitors, Apartment Therapy is definitely doing something right! And so it's no surprise that they are at the top of our list as being one of the best design blogs out there. With style trends, DIY ideas, entertaining tips, renovation help and now even a special section dedicated to weddings, this site is just getting better with age.
One of our favorite sections to visit daily has to be the Tours tab. Allowing you to peek into some of the most beautifully decorated apartments, studios and workspaces around, although you might feel a bit of envy at first (we sure did!), this beneficial tool can help you discover your own personal style as well offer tips and tricks on making everything in your space work together in perfect harmony.
Another spot that you should spend more than just a couple minutes is the Before & After's where you can watch ordinary and outdated furniture become new again or a tiny living space opened up and refreshed. This tab will definitely inspire and maybe just get you motivated to spruce something up in your own home.
2. Design Milk
Design Milk slides into our #2 category. Focusing more on art, architecture and design, we love it because it's a place that sparks creativity while featuring information that you really can't find anywhere else. From columns such as Get Out! which showcase unique and sometimes obscure outdoor items such as chairs, grills, lamps and more, to Deconstruction which strips down products to show you how exactly they were made, you definitely will never be left bored, rather quite the opposite.
The section Where I Work is an area that we like to frequent quite often not just for the gorgeous work spaces that have us thinking how can we transform our own office, but also because of the inspiring people behind them. Each story features a Q&A that allows you to take a glance inside some of the most coveted jobs and spaces around the globe.
3. Remodelista
A fantastic sourcebook for inspiration, Remodelista is home to millions of photographs, experts, products, advice and more. Whether you are in the process of renovating or not, this is the place where you'll find that next great idea! Shop editor's picks, peruse through popular styles such as rustic, modern and industrial or rather sit back and let your mouse take the reigns.
Steal This Look happens to be a favorite section of ours. From a serene bedroom in London to a gorgeous summer tabletop top setting, Steal This Look allows you to replicate everything you see by giving you a list of items and products so that you can create the same exact look in your own home. Now how great is that?
5 Quick Fixes is another great place to check out. From solutions to anchoring your outdoor tablecloth to new ways to hang art, this is a wonderful source that gives you new and creative ideas to use all throughout your home.
4. Habitually Chic
Coming in at #4 is the fashionable blog Habitually Chic. With the tagline "Glamorous Lives & Stylish Places", you know it has to be good! Featured in Elle Decor, House Beautiful and Domino, Habitually Chic takes you from gorgeous spaces around the world to the best in fashion, color inspiration and even a peek into some great movies (all for the decor of course!).
5. Quintessence
Run by Stacey Bewkes, art director turned blogger, Quintessence takes you on a journey through beautiful art, stunning design, inspired spaces, fashion, travel and a whole lot more. We absolutely love her videos that feature a look into designers and friends homes such as ready to wear bridal designer Lela Rose. These videos give you a front row seat to tour the most beautiful spaces around that you would never have had the chance to view without Stacey!
6. Fashionable Hostess
From your home to your table to your wardrobe, the Fashionable Hostess has us mesmerized! Giving us tips for hosting the perfect weekend brunch to unbelievable tablescapes, this is the blog we come to for all our entertaining needs whether it be the menu, set-up or just how to make a great lasting impression.
Also featured is a whole section that focuses on your special little one. With adorable nursery ideas, first birthday tips and the cutest fashion you ever will see, we could spend all day scrolling through this extra sweet tab.
7. Dear Lillie
Featuring a host of cottage style decorating ideas, Dear Lillie written by Jennifer Holmes (wife, mother and blogger!), takes you on a journey through the French countryside with an array of beautiful vintage furniture hacks. From a DIY Restoration Hardware inspired rolling cart to a chic tufted ottoman, these step by step tutorials should not be missed.
8. Reading My Tea Leaves
Reading My Tea Leaves may be the most fascinating blogs to read through. Author Erin Boyle shows you the beauty of living simply. With decluttering solutions for the New Year to her series "Life in a Tiny Apartment", she shows you that you don't need a ton of "stuff" to live a fabulous life.
Another series on the blog that's truly captivating is the one labeled "Make-Believe". Whether it's exploring the Oregon coast on an afternoon or dreaming up the perfect entryway, this enticing section creates a lovely collage of items to enjoy or create just that.
What is your favorite decorating blog? We would love to hear so drop us a line @brewsterhome!