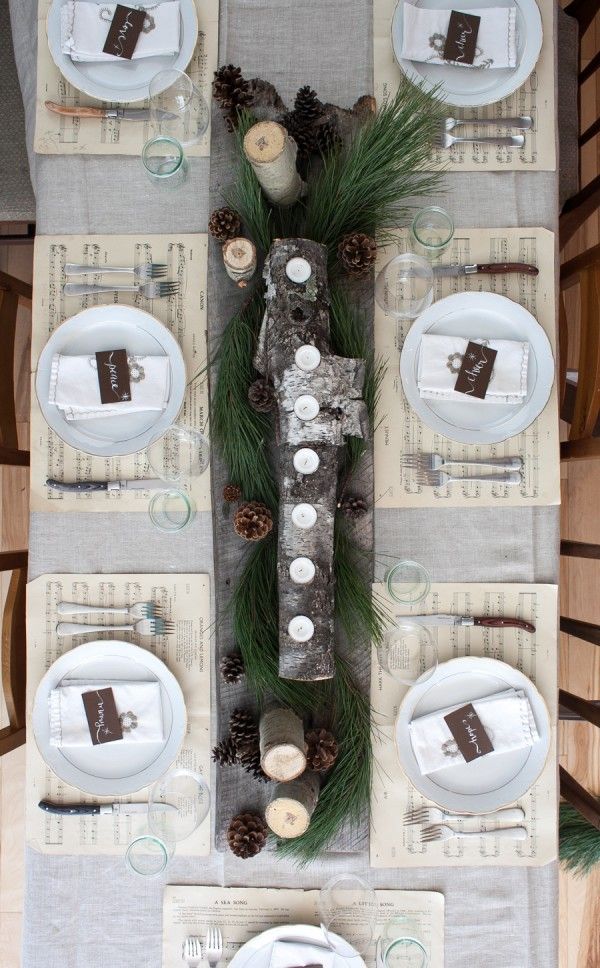 Dress Your Holiday Table for Success
We absolutely can't believe that time is upon us again! The holidays start in full force in just two weeks time and we couldn't be happier. Filled with family, love, happiness and lots and lots of food, this festive time of year definitely puts an extra pep in our step. With preparations just around the corner, we thought it was the perfect time to share our most coveted dining room looks. So whether you're hosting or just helping, these fabulous tablescapes will get you in a jolly mood to enjoy this extra special time of year!
Pink & Gold
Anything but traditional, we couldn't help but be mesmerized by this chic dining room setup that makes a huge fashion statement in pink and gold.
Musical Place Mats & Yule Log Centerpiece
With a special attention to detail, this holiday dining room is warm and inviting and uses natural elements in a simple but clever way.
Warm & Rustic 
Paper leaves, wheat centerpiece and pumpkins galore make this dining room extra cozy and a perfect place to enjoy a meal with family and friends.
Sparkly & Glamorous
A beautiful silver tablecloth, white florals and a stunning branch display make this dining room simply breathtaking!
Flowers & Garlands
Featuring a decorative garland entrance and a table filled with fresh flowers, this holiday dining room gets our vote for the most enchanting.
Copper & Candles
With candles floating above and a table covered in copper, we love how this dining room is able to look so chic while also feeling both intimate and comfortable.
Vegetables & Pinecones
With a simple garland and pinecone centerpiece and lovely arrangement of heirloom tomatoes, this festive table display is truly perfection.
Fairytale Inspired
Step into your favorite fairytale with this magical dining room where glass ornaments hang from above and fresh accents are arranged with stylish detail.
See more dining room inspiration on Pinterest!