A Mad Men Inspired Decor
Don't you just love the word den? It has such a cozy connotation. A den can be a mix between a living room and an office, and it also can serve as a man cave. When decorating in a den, you want to be sure that the furnishings are an inviting mix of comfort and style. Our dream den du jour would have a Mad Men feel, where mid century modern elements mixed with traditional pieces in a rich palette of reds and golds and deep wood finishes.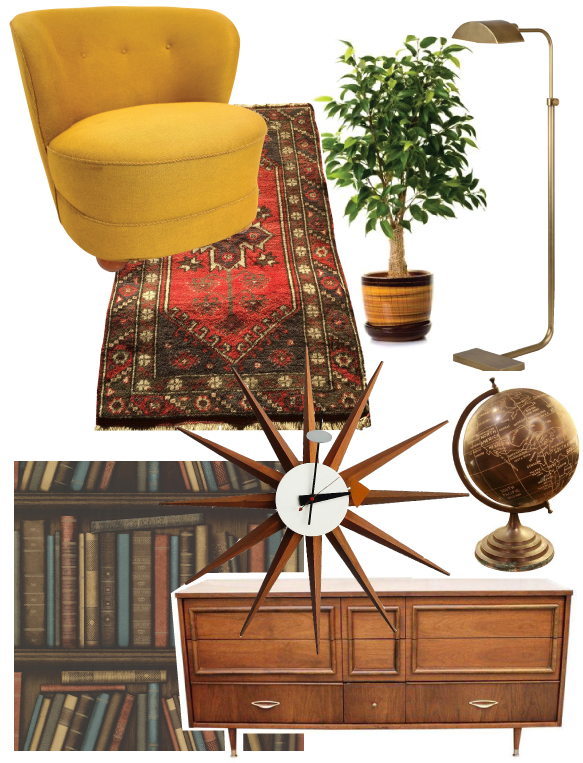 We created a style board for our den featuring an eclectic mix of old and new. Have you heard of Chairish? It is an online consignment shop where design-obsessed people can buy and sell exceptional pre-owned home furnishings. It is a fabulous place to find authentic vintage furniture and search for groovy one-of-a-kind pieces. How fabulous is that vintage 1940s slipper chair?! We found it on Chairish, along with all of the other vintage items in this board. With a low, mid century modern dresser as a credenza, and the Atheneum Antique Books wallpaper from the Oxford Mens wallpaper collection, the room has a distinguished air of intellect and sophistication. The traditional Persian rug adds a layer of comfort and global chic warmth. For accessories we chose a  vintage George Nelson walnut spike wall clock and a brass globe, both from Chairish as well. The library style floor lamp looks like it could be vintage but it is from Jonathan Adler's new lighting collection. Finallhy, the potted ficus brings a fresh touch of life to the room so that the space will never feel lonely. Below are a few more dens that we love for inspiration!