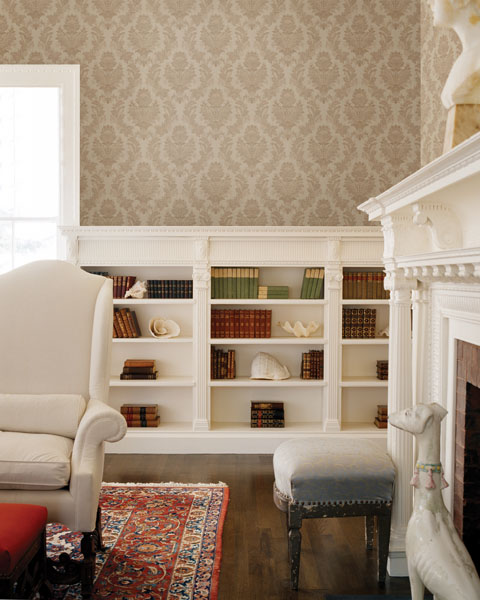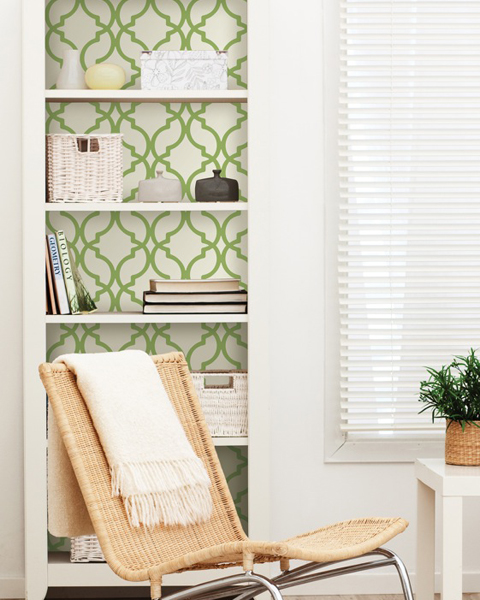 Shelves can be a true pinnacle of where chic meets function… or they can be a jumbled eyesore! One true sign of sophisticated decor is a thoughtfully arranged shelf. Mixing books with framed photos, vases, shells and sculptures is an expressive art form. Your shelves are more than just a handy place to pile books and keep electronics and clutter! They are a stage to set the tone of your space, a place to display your collections and precious memories in an attractive and organized manner. This will help bring your personality to life in the room, and give your treasures a well deserved presentation. If you have built-ins, you are lucky indeed! If not, you can get the look with a tall bookcase or a pair that match, set against the wall and painted to coordinate. Either way, adding a splash of color and pattern to the back of your shelves is a brilliant way to create a dazzling focal point for your arrangement. Below are a few of our absolute favorite looks for well appointed shelves in decor, followed by a few tips on styling your own perfect arrangement!
1. A potpourri of pretty: Each of the above shelves is completely unique but they all have one thing in common: diversity. Mix and match books with candles, shells, framed art and family photographs, small statues, curiosity items, ceramics, plants… whatever you have collected that you love! As long as you don't overcrowd your shelves, you should be able to find a balance that showcases your style with panache!
2. Arrange, then step back… and Re-arrange: Your shelves can be an evolving art installation, changing as you acquire new things to display, or to accomodate for fun seasonal decor items, or just to refresh the look of your room! Try arranging everything, then studying the overall look before re-approaching the shelf to make final adjustments.
3. Keep a Secret Stash: be honest with yourself about the fact that some things might end up on the shelf that do not necessarily merit being on display. Most of us have a lot of stuff and might have a tendency to toss mail, remotes, receipts, trinkets, keepsakes, etc. onto our shelves. It helps to have an attractive basket or box in your display mix so that you can stash less than lovely items with ease.