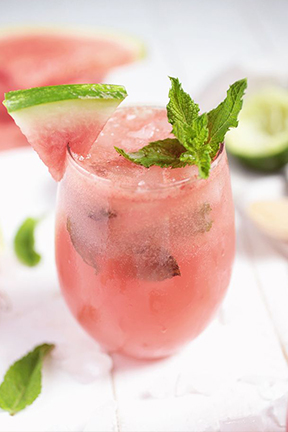 A Delicious Pairing of Summer Drinks and Favorite Films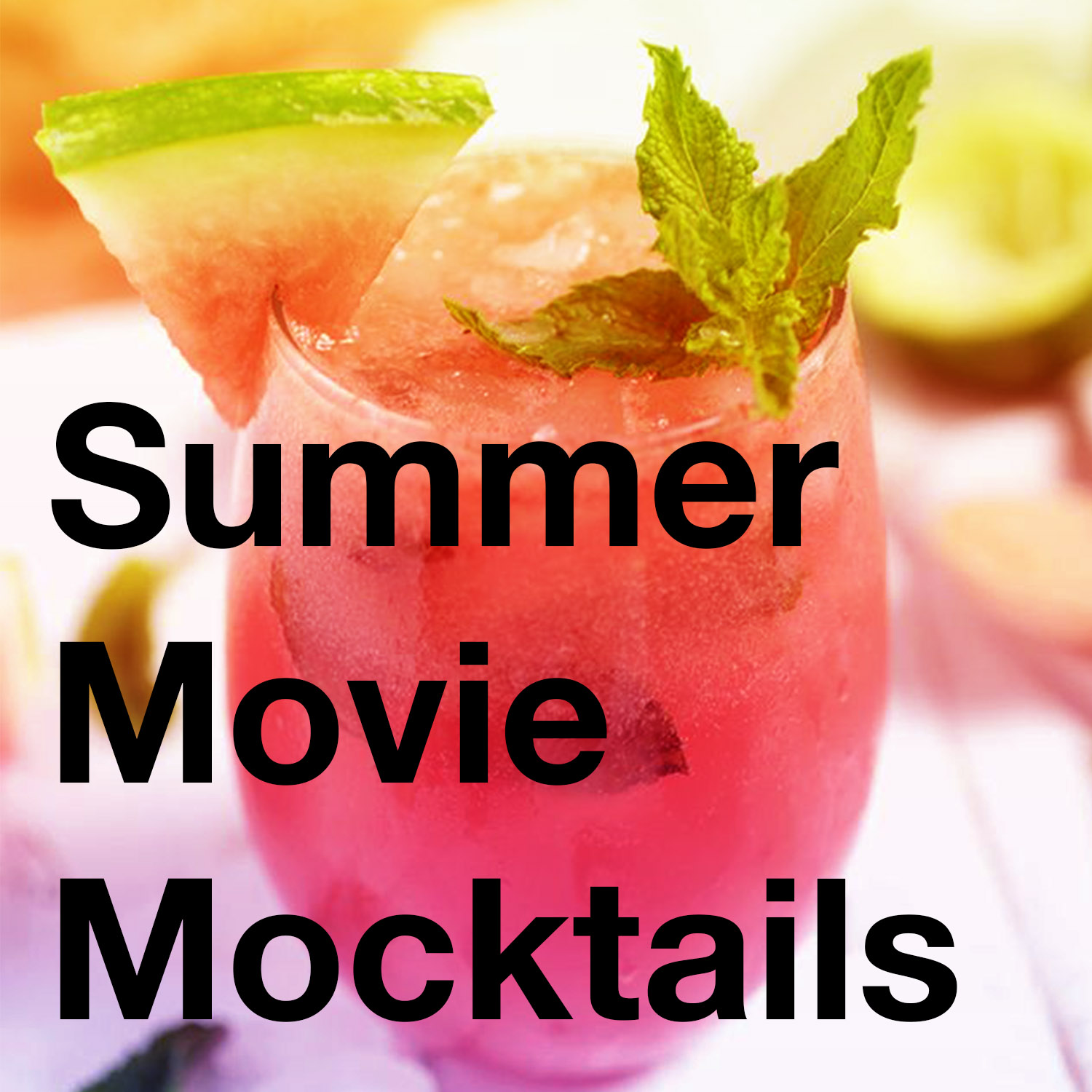 Summer days are perfect for wandering outdoors, exploring cities, and having picnics. Summer nights are perfect for sitting back with a mocktail (or cocktail) and enjoying a carefree flick. We've rounded up five of our favorite movies and chosen a scrumptious matching summer beverage for each.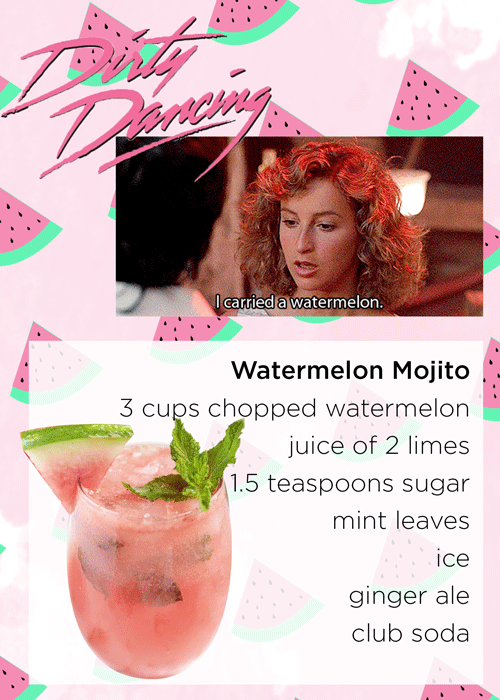 Recipe & Images from The Merrythought
Gif from Giphy
Dirty Dancing has become a classic summer movie. The idyllic family camp is complete with unforgettable dance moves and just the right amount of awkward moments. For our drink inspiration, we chose the fan-favorite watermelon scene.
In a blender, blend watermelon, lime juice and 1 teaspoon sugar until smooth. In the bottom of each glass, muddle 2 mint leaves with 1/4 teaspoon sugar. Add in watermelon puree, filling about 1/2 full. Add ice, a splash of ginger ale and top with club soda. Stir to combine. Garnish with mint sprig and watermelon slice if desired.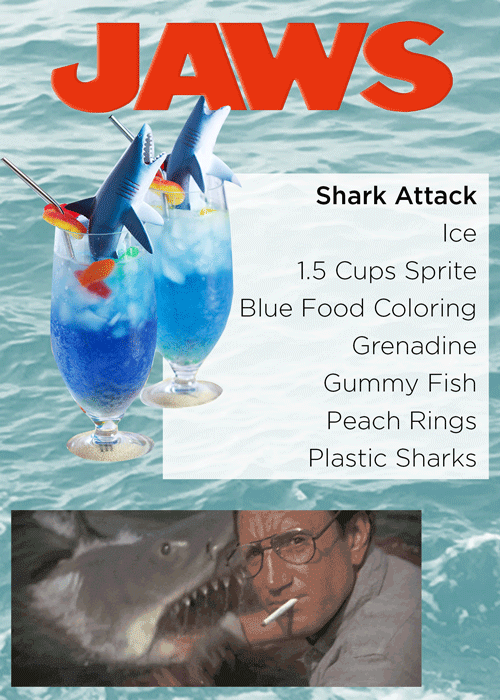 Recipe and images from The Suburban Soap Box
Gif from Mother Jones
Jaws is the perfect combination of timeless and terrifying. You may not want to go swimming after watching it, but you can make this drink for a lighthearted activity. This one is perfect for kids and adults alike with the addition of blue food coloring and gummy candy.
Fill two glassed halfway with ice.
Add a couple drops of blue food coloring and fill with soda approximately 1 inch from the top of the glass.
Add swedish fish and one peach ring to the drink.
Fill each shark with grenadine syrup and add to the glass.
Serve immediately.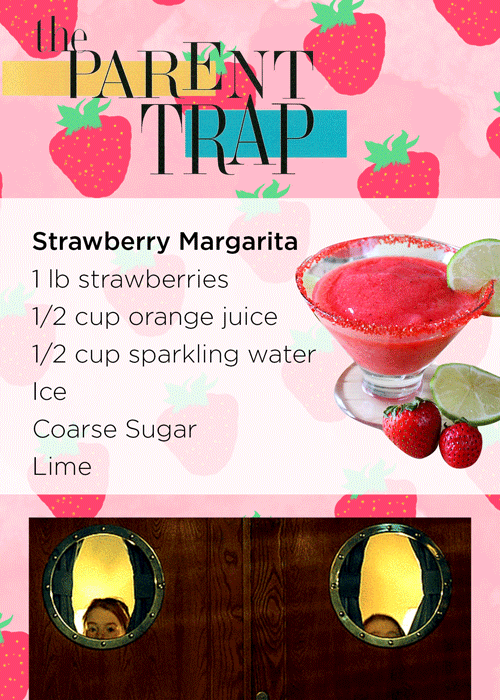 Recipe and images from Sober Julie
Gif from E! Online
The Lindsay Lohan version of The Parent Trap holds a special place in our hearts. With the perfect pairing of Dennis Quaid and Natasha Richardson, this movie has become one we'll watch again and again. The pranks and food choices are another one of our favorites. This mocktail is one that Hallie and Annie wouldn't be able to drink given their allergy to strawberries, but it's a delectable option for those who are allergy-free.
Place the strawberries, orange juice, sparkling water, lime juice and ice into your blender.

Blend on medium-high until it reaches a slushy consistency, add in ice as necessary.

Take a lime wheel and cut a small slit then wipe it around the rim of the glasses, creating moisture on the inside and outside of 4 glasses.

Pour the coarse sugar onto a plate and roll the glasses in it, collecting the sugar onto the lime juice on the rim.

Pour the Strawberry Margarita into 4 glasses, garnish with a lime wheel and serve!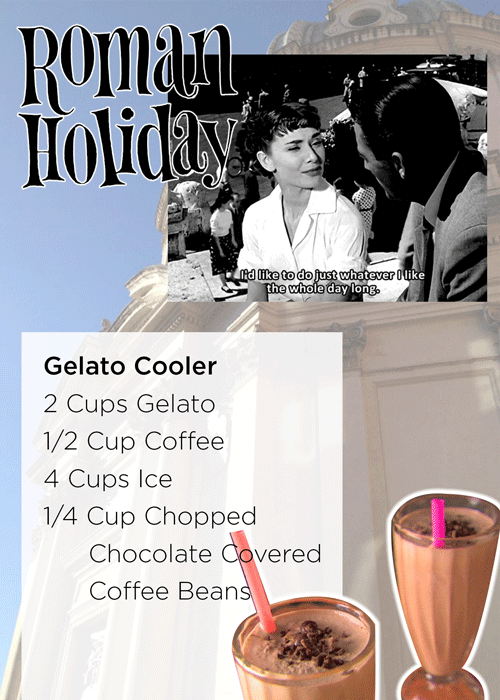 Recipe and images from Food Network
Gif from Giphy
We love Roman Holiday's twist on the classic fairytale storyline. Audrey Hepburn's big screen debut won her the Oscar for Best Actress and introduced her to the world. This gelato mocktail was inspired by the famous Spanish Steps scene, where the fate of Ann and Joe's day is decided.
Combine all the ingredients in a blender and process until smooth. Pour into glasses, sprinkle with chocolate covered coffee beans, and serve with a straw.

Recipe for Chocolate Hazelnut Gelato.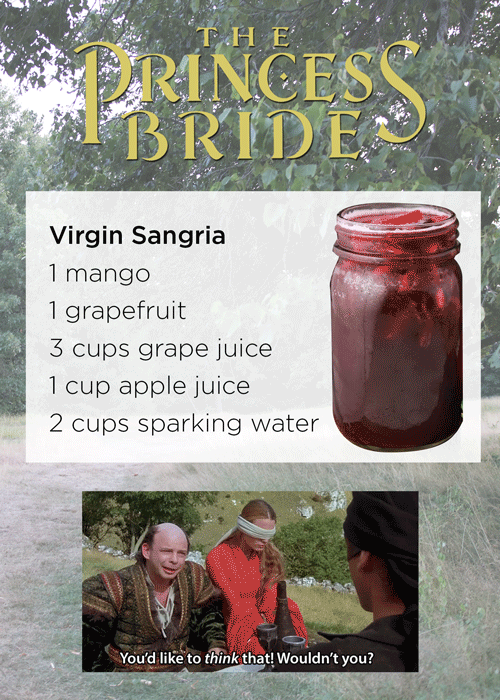 Recipe and Images from The Vegan Stoner
Gif from Panda Whale
The Princess Bride is another film that has become a summer staple. The love, laughs, and always quotable scenes make this the perfect relaxing evening flick. This drink was inspired by the famous poison dilemma scene. We promise, this sangria won't make you keel over.
Chop 1 mango, 1 grapefruit, and a handful of strawberries.
Add chopped fruit to a pot with 3 cups of grape juice.
Add 1 cup of apple juice and let mixture sit in fridge for at least an hour.
Mix in 2 cups of sparkling water.
Munch.
Let us know what your favorite summer movie is! What mocktail would you pair with it?